The energy sector continues to provide some bargains to investors. Some companies have gotten hit by the movement of drilling & production assets from natural gas fields to acreage that produces oil as low NG prices start to impact capital allocation decisions. One stock that took a significant hit on Wednesday and Thursday was Baker Hughes (NYSE:BHI), which took an approximate 6% hit Wednesday and sold off further on Thursday as it is said this transition would affect sales and margins. Another stock that sold off on disappointing earnings in February that now looks like a solid bargain at current prices is ION Geophysical (NYSE:IO)
NOTE: I sold the bull market put spreads (JULY 42/38) on BHI late Wednesday.
ION Geophysical - "ION Geophysical Corporation provides geophysical technology, services, and solutions for the oil and gas industry. It operates through four segments: Systems, Software, Solutions, and INOVA Geophysical joint venture." (Business Description from Yahoo Finance).
6 Reasons to buy IO at just over $6 a share:
Insiders have bought around 100,000 shares over the past six months at current price levels.
The company is projected to have rapid EPS growth. IO has 22 cents a share in earnings in FY2011, and analysts expect 48 cents a share in FY2012 and 69 cents in FY2013.
The company sells for an extremely low five-year projected PEG (.18) and eight times cash flow.
The consensus price target on this stock is $12.50, more than 100% above current prices. Note: Only two analysts have price targets. One is at $11 and the other at $14.
IO is also experiencing rapid sales growth. Analysts expect north of 25% revenue growth in FY2012 and 15% in FY2013.
The stock looks like it bottomed around $5 a share and has come off 50% from its highs last year (See Chart - click to enlarge)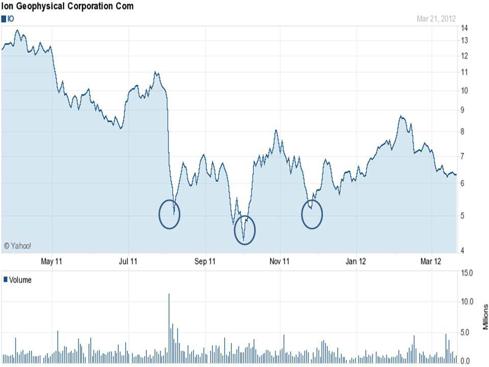 Disclosure: I am long BHI. May also initiate long position in IO in next 72 hours.