The uncertain economic environment in recent years has left balance sheets flush with cash as corporate leadership has fretted over the chances for another economic disaster. Riverbed Technology, Inc. (NASDAQ:RVBD), a provider of performance solutions for owners of wide-area networks, is one of those with a growing cash hoard. Riverbed closed fiscal year 2011 with $215.5 million in cash on its books with another $254.8 million in short-term investments - a kitty representing more than half of Riverbed's tangible assets.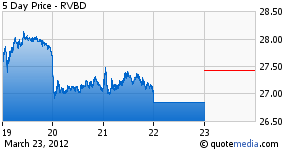 As comforting as cash might be for nervous management, no investor likes to see cash accumulating on a balance sheet earning paltry returns in liquid investments. For many a building cash balance signals WEAK management unable or unwilling to find suitable investments that could expand earnings.
Should an investor pass over Riverbed because cash signals the salad days of growth are over? I say no. Indeed, excess cash may be a reason to buy RVBD.
First, let's figure out just how much of the cash sitting on Riverbed's balance sheet is needed to keep operations going - and how much represents excess cash. A popular means of calculating excess cash is a comparison of total cash to coverage of current liabilities by non-cash current assets. By such a measure, which I share below in the section called The Fundamentals, Riverbed has $350.8 million in cash in excess of working capital requirements.
Second, let's look at what kind of insurance or cushion Riverbed might need given the state of its current operations. A bit of number crunching also in The Fundamentals, reveals Riverbed has a growing top-line, expanding profit margins and a history of turning revenue into cash. There is no debt on the balance sheet. In other words, it is a low-risk operation and capital resources are the least of its worries.
I my view, it is plain and simple. A growing, highly profitable company with no debt does not need $470.3 million in cash and short-term investments on its balance sheet. Furthermore, Riverbed could easily part with $350 million and still keep operations humming right along. Riverbed management is not likely to agree. It sees the need for a pristine balance sheet with plenty of cash to impress customers that might otherwise choose arch competitor Cisco Systems (NASDAQ:CSCO).
Whatever the calculation, excess cash has a way of opening doors. It appears Riverbed has several to choose from - all of which could yield benefits for investors. On the other side of the first door is an acquisition. The company does have a history of successful acquisitions, suggesting management is neither weak nor unwilling. Nine months have gone by since the last deal and by most accounts the Zeus Technology and Aptimize operations have been successfully integrated. It is about time Riverbed could begin casting about for another deal and act opportunistically. Another tuck in deal that complements existing operations is most likely. This is the sort of deal that is most likely to be accretive to earnings.
Door number two is share repurchase. Riverbed already has an active share repurchase program in place since the board of directors authorized the use of $150 million to repurchase shares in August 2011. That authorization will remain in effect until August 2013 and about $135 million has yet to be used. Issuer presence in the market, even with the restrictions imposed, supports trading volume and price for investors taking long positions now.
The company could do something new with its cash, declaring a special dividend for current shareholders. Admittedly, this is a long-shot. Dividends carry tax implications for shareholders and are often considered less desirable than a share buyback as a means to put money back into the hands of shareholders.
What if Riverbed just sits on its cash, doing nothing? Investing in RVBD today at 71.2 times trailing GAAP earnings might seem like a lofty multiple, especially with some of the company's assets underutilized. Consider instead the stock's multiple of 20.4 times trailing cash flows from operations. This is higher than the industry multiple of 14.6 times, but then again Riverbed is delivering significantly faster growth, higher profit margins and with less leverage than its peers. Also consider that even with a building cash balance, return on assets has increased in each of the last three years to 6.2% in 2011. Even at the current price level RVBD presents an interesting buy.
The Fundamentals
Riverbed strikes a near picture perfect pose in terms of growth, profitability and returns on investment. Riverbed has delivered 42.3% growth in earnings over the past five years and to the extent that you have confidence in the consensus estimate growth is expected to continue albeit at a slower pace near 21%. The profit margin expanded to 76.0% in 2011, compared with an average 61% in the networking industry. The company benefits from strong operating leverage, driving the operating margin to 12.6% in 2011 compared with 2.6% in 2009 and 10.6% in 2010.
Riverbed has no debt and therefore does not need to sequester any cash for deleveraging the balance sheet. Equity has risen steadily over the past several years and stood at $711.1 million at the end of 2011. Even as equity has risen, net income has climbed faster, driving return on equity higher each year with ROE reaching 12.1% in 2011.
Riverbed has also been doing a good job of converting sales dollars to cash. Cash conversion has increased steadily over the past three years reaching 28.8% in 2011. That means for every dollar of sales Riverbed gets to keep $0.29 to reinvest in the company. One of the more attractive features of the networking sector is a modest requirement for hard assets. Investment is required in research and product development to keep the product line current. However, network technology developers have been very successful at leveraging product technologies across multiple markets.
Measures Used in this Article:
Excess Cash = Total Cash - [Current Liabilities - Non-cash Current Assets]
Cash Conversion = Cash Flow from Operations / Total Revenue

Disclosure: I have no positions in any stocks mentioned, and no plans to initiate any positions within the next 72 hours.