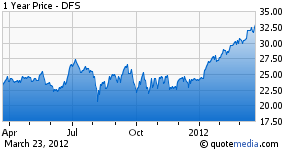 Discover Financial Services (NYSE:DFS) the direct banking and payment company known from its Diners Club service reported its first quarter results today. Amidst a small correction on Wall Street today shares close the day 2.7% higher.
First quarter results
Discover reported a first quarter net income of $631 million up from the $465 million reported last year. Earnings which came in at $1.18 per share far surpassed the consensus estimate of $0.88 per share.
Overall loan growth was up 9% to over $56 billion. CEO and Chairman David Nelms announced that "continued improvements in credit performance, solid organic growth and strong sales volume" drove the earnings reported today.
Direct banking
Revenues before interest expenses were up 6% to $1.84 billion. Net interest income rose to $1.29 billion with the net interest margin decreasing by 19 basis point to 9.03% due to loan growth in lower yielding student loans and a decline in credit card yields due to new regulation. Lower funding costs could only partially offset this margin compression.
Discover Financial Services is still heavily focused on credit card loans which comprise roughly 80% of its loan book. The remainder of the loan book is comprised out of student and personal loans.
Despite a slight margin compression and an increase in personnel expenses due to increases headcount driven by regulatory developments, profits managed to increase as delinquencies kept falling. 30-day delinquencies came in at 2.22%, an all time low for Discover Financial.
Share repurchase program
The board of directors authorized a new $2 billion repurchase program. In combination with the two dividend increases which were announced last year "reflects the strength of the capital base and confidence in the earnings power of the company" according to David Nelms which is chairman and chief executive offer of Discover. The plan should be sufficient to retire about 12% of outstanding shares at this current price and signals that management continues to signal undervaluation of the shares.
Investment thesis
Shares had an excellent run returning already 35% this year. At the current level of $32, shares trade far above the depressed levels of $5 amidst the height of the financial crisis.
Shares already trade at 2.2 times book value, however shares seem relatively cheap valued at 8 times 2011's earnings. Furthermore the repurchase program in combination with earnings growth for 2012 could push that ratio down to 6 times earnings making Discover Financial Services with its strong Diner's Club franchise an absolute buy.
Disclosure: I have no positions in any stocks mentioned, and no plans to initiate any positions within the next 72 hours.