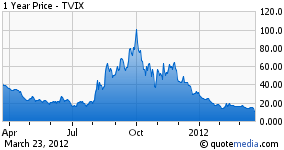 Shares of the Velocity Shares Daily 2x VIX Short Term ETN (NASDAQ:TVIX) plunged nearly 30% yesterday and are currently down another 20% today. However, the reason for the sell-off has nothing to do with the VIX itself. Rather, the TVIX plunge is the result of specific fundamentals relating to the ETN.
Recently, SA contributor Paulo Santos wrote a piece in which he explained the 18.3% premium to NAV that TVIX was trading at. The premium to NAV was a result of Credit Suisse's decision to halt issuance of new units of TVIX. Following the decision to halt issuance, TVIX started to trade at a premium to NAV because demand for the product outweighed supply.
Today, Credit Suisse announced that it would resume the issuance of new TVIX units. This decision means that Credit Suisse will issue more units of TVIX so that the price of the ETN is inline with the NAV. The current fair value for TVIX is about $8 per share.
In summary, today's price for TVIX is the correct price. The price TVIX had been trading at over the past few weeks was the "incorrect" price as the share price had detached from NAV.
At this point, the pain over the short term is largely over for TVIX as it is now trading close to NAV. However, investors should avoid buying TVIX for other reasons. Most importantly, the contango in the VIX will lead to continued "monthly roll" loses in the future. The problem for futures based instruments is discussed in more detail here.
Disclosure: I have no positions in any stocks mentioned, and no plans to initiate any positions within the next 72 hours.