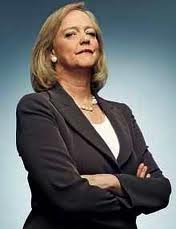 In arguably her biggest move since taking over as CEO last September of technology giant Hewlett Packard (HPQ), Meg Whitman has convinced the company's board that merging the personal computer division with its printing business serves the interest of the company's long term competitive strategy. This comes as the company is engaged in its long standing effort to reduce costs while improving its ability to produce more market appealing products. One of the ways that Whitman feels it can do this is by consolidating its two most profitable businesses.
Things are coming together
The two businesses combined reached approximately $65 billion in sales last year - representing over half of the company's revenue for all of 2011. Whitman described her objective for merging the two businesses in that it would generate a "go to market synergies" for a global enterprise accounts team, provide a quicker decision process, while also reducing the company's annual marketing expense which totaled over $4 billion. The company is betting that the result of this merger will bring more synergies to various areas of its operation - these include its procurement procedures, supply chain as well as its assembly line processes, just to name a few.
When this news first hit the wire, it's hard to say that it was a surprise. Because one has to consider that whenever new leadership is installed in any company, especially from the outside one can safely assume that considerable amount of change has to be in order. Ever since her arrival, Whitman has placed the majority of her focus and attention on learning how HP's business operates - essentially trying to identify the company's strengths as well as its weaknesses. And I don't imagine that to have been an easy task for a company that engages in various corporate enterprise as well as consumer businesses. So the question now is, where does the company go from here? Or more specifically, what's next?
What's next?
I think this question is a bit more challenging to answer at this point absent some real understanding of the progress that this decision will make. For starters, we know that whenever entities merge it often creates an overlapping of responsibilities. So as the two sides come together it will likely create duplicate roles causing some people to lose their jobs. But Whitman had already indicated that this was a possibility several weeks back when during a speech to company employees she cautioned that change was coming and some of which would likely result in a significant amount of layoffs. What has become interesting in this announcement is that the company was not shy about the fact that it wants to model itself after one of its rivals in Apple (AAPL).
One of the market advantages that Apple has over the competition has always been the ease of a unified system - basically everything it produces is designed specifically with its existing products in mind and how well they can work together. This is what Hewlett Packard wants to create by merging the two businesses. The cost savings is one thing and the synergies between the divisions is another, but it's clear that the company wants better relationships and designs between its PCs and printers with the goal that they will work better together - if nothing else to give it an edge over PC rival Dell (DELL) and network rival Cisco (CSCO). The question is will it be as successful as Apple?
Clearly Whitman has a tall task ahead of her in executing correctly to realize the objective. And when you add the fact that the company still has to deal with the doubt that some investors are beginning to feel, it gets a bit more complicated for Whitman to have to manage a Fortune 500 company (while still being new to her role) and still appease investors and their expectations. In the company's first couple of quarters since her appointment, I think it is fair to say that she hasn't exactly wooed the critics to her side just yet but how things progress after this decision will most certainly lay the foundation for her legacy as HP's CEO going forward.
Summary
The company is placing a large bet on its future. But it's also betting on its present by making this change. It is hoping that Microsoft's (MSFT) release of Windows 8 generates an increase in sales of its PCs, ultrabooks as well as its TouchPad tablet which it recently decided not to scrap - one that will now compete with Dell's Streak and Cisco's Cius. As challenging as things appear, I think investors should be excited about this news and appreciate that the company has become diligent about returning to a level of performance to which it is accustomed and has since regained a focus of returning value to shareholders.