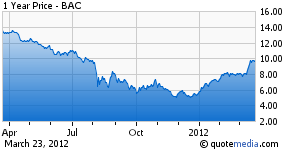 I have recently written quite a bit as to my opinion toward Bank of America (NYSE:BAC) stock and how I am quite bullish on the future of its share price (read this).
I have even moved the stock from my risk basket to my core portfolio to add during dips and to hold for the longer term and not just to trade any longer (Check this out).
As noted in my previous articles, Bank of America has been taking strong strategic steps to clean up its balance sheet and to increase profitability.
Another very positive step was announced regarding homeowners who are in foreclosure to turn the deed over to BAC and in return, sign a rental agreement at an agreed upon, negotiated rental cost.
Some might say this is a tiny step, and perhaps on the surface it might be. I am looking at it from a profit and loss perspective. If many folks in the situation agree to this, BAC can take the properties off of their foreclosure status, off of their books as a "liability" and move them into the income generating portion of their balance sheet.
Basically they would become landlords. At the same time, the folks could stay in the home, at reduced costs, and maintain the home which we have seen is vital when banks attempt to sell foreclosed and vacant properties that have been left to "rot" and create even more losses than the original foreclosure.
Not only that, but all sorts of arrangements can be worked out with the "tenants" going forward, either to catch up and get the deed back, or to act as guardians toward future sale of the home and maybe even make a few bucks in the process.
As an added "bonus," rising mortgage rates could actually help the profitability of banks, particularly BAC, and will aid in the fledgling housing recovery (as noted here) by having more profit incentive to actually write new mortgages.
To me this seems like a win/win/win strategy that further shows how well Bank of America is doing in taking the steps needed to regain its footing as a premium bank.
I can see other banks doing this also if it works out, and there is absolutely no government intervention in this approach either.
Good stuff ... I like it.
Disclosure: I am long BAC.