Tiffany (NYSE:TIF) raised 2012 guidance sending the stock 6% higher.
The jewel retailer has risen 284% above the lows set in 2009 as luxury plays recovered. There's logic behind the move: If retail is hot, luxury retail is blazing. The rich are feeling richer and are buying high end. Tiffany trades in the most expensive baubles, fitting the buy-everything-luxury theme.
Still for all the market excitement, there is a crucial caveat to this theme when it comes to Tiffany.
The ultimate museum retailer
Let's be clear: Tiffany acts more like the Guggenheim or Louvre than a retailer. Inventory sits an unconscionably long time, an unbearable and interminable 471 days. That's right: a dollar's-worth of inventory spends on average 1.3 years waiting to be turned into cash.
The worsening trend
Believe it or not, the inventory day rate this year is worse than last year, going from 456 to the ridiculously long 471 days. Back in the good ol' days, Tiffany took far less time in inventory stagnation: 395 days in 2008, a "fast-paced" 347 days in 2004!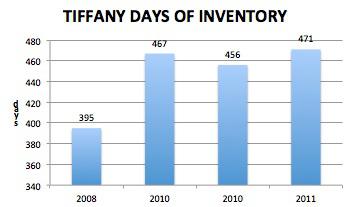 Contrast that to other high-end plays: Louis Vuitton (OTC:MAGOF), Saks (NYSE:SKS), Coach (NYSE:COH), Nordstrom (NYSE:JWN), and Apple (NASDAQ:AAPL) (Somebody will argue Apple's not luxury. Compared to other cellphone/computer hardware companies it is. Anyway, it's my article.)
Here's how they stack up. Apple clobbers everyone. Tiffany's inventories crawl out the door.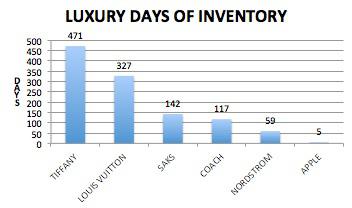 To be fair, Tiffany makes up "lost time" on margin. The 60% gross margin helps. Still, margins have come under pressure dropping 50 bps compared to last year's quarter.
In the end, the sluggish inventory should give investors pause.
The bright side to stalled inventories?
Yes, there is a silver lining. A trip to the mall doesn't have to be so scary. Now you can stroll with your wife through Tiffany, secure that your wallet is safe. Remember: That diamond broach might as well be a Degas at the Met. So stop worrying. The bauble will be in the display case another 400+ days.
Until Tiffany clears its inventory faster, I wouldn't buy this stock any more than I'd buy shares in the Guggenheim.
Disclosure: I am long AAPL.
Disclaimer: The opinions in this document are for informational and educational purposes only and should not be construed as a recommendation to buy or sell the stocks mentioned. Past performance of the companies discussed may not continue and the companies may not achieve the earnings growth as predicted. The information in this document is believed to be accurate, but under no circumstances should a person act upon the information contained within. We do not recommend that anyone act upon any investment information without first consulting an investment advisor as to the suitability of such investments for his specific situation.