I remember back in October 2010, Clean Diesel Technologies (NASDAQ:CDTI) completed a reverse split and merged with Catalytic Systems. What turned out to be one of the short squeezes of the year, momentum and day traders got their hands on Clean Diesel Technologies battled with short sellers, and it traded from 3 dollars to as high as 44.38 a share within days. Of course at that time no one except insiders really knew what the potential of the newly merged company would be. To most it was a stock to trade and not an investment. Now over a year later, Clean Diesel Technologies has a reputable CEO in command and has just released record revenue growth and earnings per share.
Clean Diesel Technologies is a leading integrated emissions control company. They are a global manufacturer and distributor of heavy duty diesel and light duty vehicle emissions control systems and products to major automakers and retrofitters. Alas, global emissions regulators such as the Environmental Protection Agency are clamping down on the amount of Particulate Matter and Oxides of nitrogen what we know as soot and smog, which is being released by heavy duty diesel systems. Clean Diesel Technologies is benefiting from these new lower emissions requirements as they produce on-road retrofit emissions and verified emission reduction systems. This past year in Europe, Low Emission Zone standards which cover most of Greater London, required owners of heavy diesel vehicles pay a daily charge unless their vehicles meet certain emission standards that limit the amount of particulate matter coming from their exhausts. Now in the United States, California and New Jersey Departments of Environmental Protection have issued mandatory diesel retrofit programs. Older heavy duty diesel trucks are going to need to be retrofitted and distributors of new heavy duty diesel trucks will need new verified emission reduction systems. The company estimates this will carry over to other states in the U.S., and other Low Emission Zones in Europe. Then we get to China and other parts of Asia which are just starting to examine this. Global emissions regulations are driving growth. The market growth for these clean diesel products will be superb for years to come.
Let's take a closer look at Clean Diesel Technologies financials and see how much they have already benefited. The company's 2011 revenue was 61 million which is up 28% compared to 2010. More importantly their Heavy Duty Diesel Systems division grew 52% year over year. This growth included a disruption in their Catalyst business resulting from the earthquake and tsunami in Japan. Their 2011 EPS were a loss of $1.31 per share versus a loss of $6.71 per share in 2010. They have been improving each quarter as revenue during their fourth quarter was up 80.5% over the prior year quarter and the highest quarterly sales in the history. Their gross margin for 2011 has improved to 28.5% up 350 basis points from 25% margins in 2010. The Greater London initiative will continue into the first quarter of 2012 and Clean Diesel is expecting California to ramp up. On the company's fourth quarter conference call, CEO Craig Breese estimates that the California regulation will require well over 100,000 heavy duty diesel trucks to be replaced or refitted with diesel particulate filters in order to meet California's emission standards between the period of 2012 to 2016 with some 90% required by the end of 2014. They expect their addressable market in California to be in the range of 60,000 to 70, 0000 vehicles. These numbers are for one state in one country!
I am looking for negatives here, because I never want my articles to be one sided. The only thing that I can find on this one is they have one large institutional holder that has been selling shares. As of March 14 the institution still holds 15.5 pct. of the shares outstanding.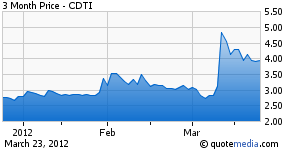 I am not a technical analysis expert, but I am looking at the 3 month chart and the volume of late on Clean Diesel Technologies has declined and a nice pennant flag is forming in the chart pattern.
Lastly I just want to comment on the new CEO of the company that was put in place on March 8th. Clean Diesel hired R.Craig Breese as its new president and chief executive officer. Mr. Breese has more than 30 years of experience in senior business management roles and most recently served as president of Honeywell Consumer Products Group (NYSE:HON). During his tenure at Honeywell, he consistently drove top and bottom line growth. He also helped transform the way in which Honeywell innovated, manufactured and sold products, particularly in international and emerging markets. Mr. Breese is an excellent hire, the ideal leader for a company that is in the beginning phases of its growth cycle.
Disclosure: I have no positions in any stocks mentioned, and no plans to initiate any positions within the next 72 hours.