In the midst of World War II and particularly in the years to follow, the world got busy in a hurry as the focus shifted back onto the family. As a world devastated by war turned back to a sense of normality, a large spike in the number of births gave way to what became known as the "Baby Boomer" generation. Now, as this generation ages, there is much talk concerning those who were born between 1946 to 1964. Social Security and Medicare have become two national programs facing difficulties as the number of retiring workers become ever more reliant on the fewer workers of the generations that followed.
(Click chart to enlarge)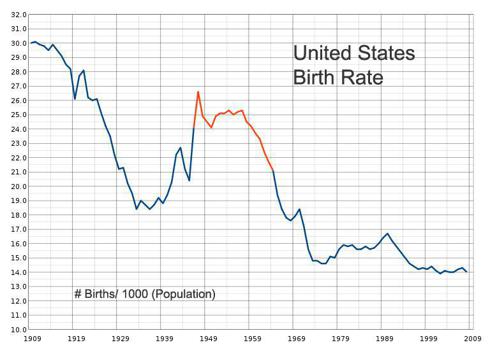 Yet more relevant to our own endeavors, the wake of this large population demographic shift is resulting in changes of consumer habits as the baby boomers reach an old age. Those who once grabbed old fashioned milk shakes are now turning to Abbott Laboratories' (NYSE:ABT) Ensure® Shakes. Products and service needs are shifting, and investors can be sure to realize some of the gain in store for the years to come. The following offers a brief list of companies to keep an eye on in the coming decade in light of these changes in consumer demand. All values were taken as of March 22, 2012.
Company Name
Market Cap.
P/E Ratio (Trailing)
Price-to-Book Ratio
Industry
Teva Pharmaceutical Industries (NYSE:TEVA)
$38.10 B
13.96
1.72
Generic Drugs
Service Corporation International (NYSE:SCI)
$2.41 B
17.81
1.76
Funderal Services
National Presto Industries (NYSE:NPK)
$0.54 B
11.17
1.61
Home Goods, Adult Diapers,
Defense
Royal Caribbean Cruises (NYSE:RCL)
$6.40 B
10.62
0.77
Cruise Vacations
Sun Healthcare Group (NASDAQ:SUNH)
$0.16 B
n/a
0.74
Assisted Living
Teva Pharmaceutical Industries. As a company who's stock price appears seemingly bound to its current range, investors should not underestimate the potential that lies in store. Operating as the largest generic drug manufacturer in the world, this international pharmaceutical leader solidified its dominance on the market with the acquisition of U.S.-based Barr Pharmaceuticals back in December 2008. With drug retail sales serving as the no-brain winner for this aging population, Teva is sure to prosper as the leading company to offer cheaper alternatives to the expensive brand-name drugs that people will come to rely on.
Service Corporation International. Though not the rosiest of topics to discuss, death remains an inevitability for us all. As North America's largest single provider of funeral and death-related services, the company additionally sells caskets and other affiliated merchandise. As the Baby Boomers age, so increases the likeliness of advancing death rates that will undoubtedly raise the demand for the company's products and services.
National Presto Industries. It might be a stretch to suggest that a more static older population is more likely to use home cookware and other convenient small appliances. But what is clear is that the use of absorbent products such as adult diapers will be in growing demand. National Presto specializes in both housewares and absorbent products, which collectively account for half its revenue. The company's absorbent products division increased to 21% revenue growth in the last year compared with a mere 8% growth in the year prior. While a decline in the defense sector (the other half of the revenue) and the housewares sector helped push this stock down, investors should be aware the company is long-term debt free and typically carries a large hidden special dividend every year.
Royal Caribbean Cruises. With a large flow of retirees cycling through the workforce and into the life of retired leisure, luxury cruises often become more familiar grounds as a means to travel. This is particularly so as older individuals grow more feeble and tend to be less likely to vacation in ways that require more physical endurance. As a leader in the cruise vacation industry, the company operates under multiple brands including the more popular Royal Caribbean International and Celebrity Cruises.
Sun Healthcare Group. As a healthcare service provider, the company specializes in skilled nursing centers and assisted living centers. Providing the corresponding services that ensure medical and daily living assistance, Sun Healthcare Group is sure to see business increase as the aging trend continues. Formerly consolidated with the real estate holdings of Sabra Healthcare REIT (NASDAQ:SBRA), the company restructured its business in 2010 and split its real estate holdings into SBRA and its service provider into SUNH. As a result of this restructuring, the new Sun Healthcare is sure to see a more correlated outcome to the increased demand for its services required by an aging population.
Disclosure: I am long NPK.