Two weeks ago, in my article "What Might Apple's iPhone 5 Look Like?" I unveiled a little known fact about Walter Isaacson's "Steve Jobs" biography, namely that there is a paragraph missing from the English version, but present in foreign translations. This paragraph includes a clue as to what a future iPhone might look like.
Today, we got another clue as to whether Apple (AAPL) might really be exploring the path that I had earlier indicated. This clue came in the form of a patent … for a full-glass device (the pictured device is an iPod, however). This lends further credibility to the tidbit I had unearthed earlier.
The patent can be seen in the U.S. Patent Office, though I must also give credit to Engadget for calling my attention to it. The patent describes how such an all-glass device could be made, including the schema shown below: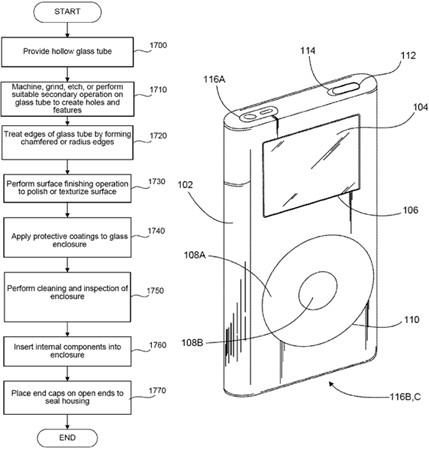 Again, as I explained in my article "Why The New iPhone 5 Is So Important To Apple," the iPhone is incredibly crucial for the company, since it presently accounts for close to 53% of its revenues and three-fourths of its gross margins. Apple, today, is the iPhone. This means that every new iteration of the phone needs to be a success if Apple is to keep and expand its $560 billion market cap - a level at which many former leaders tripped and fell.
In a world awash in smart phone brands, where seemingly everyone is taking a shot at the high-end market segment where profits lurk, it's getting increasingly difficult to differentiate the designs. It's in this context that an all-glass phone could make a difference, especially if it catches with the public and taking into account that it's now patented, giving more ammo for the ongoing patent wars, should Apple's competitors choose to try and replicate it.
This news might also be significant for Corning (GLW). Presently it is thought that Apple uses Corning for only part of its aluminosilicate glass needs, since Corning's "gorilla glass" was invented back in the 60s and other competitors can also supply similar glass. However, if the fabled "godzilla glass" is Corning's "gorilla glass 2," then Corning might have a bit more IP (intellectual property) protection this time, allowing it both to control a larger part of the market, and to charge premium prices more easily. Unfortunately, the specialty glass segment (which includes gorilla glass) is still rather tiny for Corning, representing just 14% of 2011's revenues, so it's difficult for it to move the needle. Indeed, it would seem that for Corning to achieve greater multiples, it would perhaps make sense to spin-off one or more divisions, so as to give investors more of a pure play on specific trends.
Conclusion
With today's unveiling of Apple's "all-glass device" patent, we seem to draw closer to our speculative thought that Apple might be considering launching devices made fully of "gorilla glass 2." It's hard to know how successful such devices might be, especially taking into account the possible fear of them shattering easily if dropped (something that already happens to the present iPhone 4S). However, if Apple pulled another success with such product it would be harder to copy by competitors, given the patent protection.