OPKO Health (NYSEMKT:OPK)
Key Metrics
Market Cap: $1.4B
P/TB: 32.6x (~50% of assets are intangible)
EV/Revenue: 48.9x
Operating Margin: -83%
Profit Margin: -13%
Average annual dilution of 42% since inception (appears not accretive to earnings)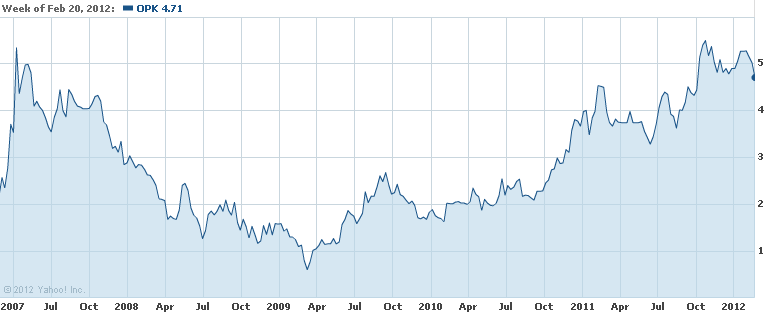 Executive Summary:
Significant losses since inception (negative operating cash flows and operating/net income)
Company spent five years and millions of dollars on failed ophthalmic business
Currently owns and acquired various drug development and exploration businesses that will require years of R&D and extensive capital before most drugs even are considered for approval
Questionable actions by management resulting in adverse effects to shareholders
Ultimately a binary situation; either their drug trials are successful or fail. Much of the upside appears already priced in

Description:
OPKO Health Inc owns a variety of pre-launch drugs and equity interests in small drug exploration companies. The company was formed from a merger of two drug development companies and a shell company and has not managed profitability since inception. The company's cost structure involves investing large sums of money for many years in anticipation of drug approval and sales far into the future. The company currently does not own any approved drugs.
| | |
| --- | --- |
| | Process Time |
| Application Approval | 1 - 2 years |
| Clinical Trials | 2 - 5 years |
| Drug Approval | 1 - 3 years |
Because the company's cost structure involves heavy R&D spending, the company has turned to issuing debt, preferred stock, and common stock. Average dilution by my estimates has been around 42% a year since inception. The company also has two classes of preferred shares outstanding as well as warrants. The preferred stocks dividends are cumulative and have been accumulating millions of dollars worth of delayed payments while the company remains unprofitable. The preferred stock and warrants are convertible into over $200M worth of shares, with the entirety being in the money (strike price ranges from ~$1 - 2).
Although trading at 48.9x EV/Revenue, the company expects to be unprofitable for many years in the future, requiring substantial future share dilution and issuance of debt. By my estimates, the company seems to be burning over $20M in cash every year.
Questionable Management Ethics:
The CEO, Dr. Phillip Frost, owns over 50% of the company, granting him almost complete control. During his reign, OPKO has been involved in numerous questionable transactions involving itself and external investment trusts and companies, many of which are owned/part-owned by Dr. Frost and/or other members of OPKO's management team.
Share dilution at significant discounts by investment Companies owned by Dr. Frost, the CTO and CVP
Since 2008, OPKO (in virtual control by Dr. Frost) has issued shares with discounts ranging from around 20 - 40% to companies either directly or indirectly owned by either Dr. Frost, OPKO's Chief Technology Officer, or OPKO's Chief Vice President.
On September 10, 2008 the company issued 13,513,514 of common stock ($15M) at a 40% discount to the "Frost Group" which is controlled by the CEO Dr. Frost.
Between February and May 2009, OPKO issued 51M additional shares ($51M) at around a 20% discount to investors including the "Gamma Trust" (controlled by the company's CTO, Jane H. Hsiao), "Oracle Partners" (controlled by CEO, Dr. Frost ), and the "Vector Group" (in which Dr. Frost is a significant shareholder).
Draws from lines of credit from management owned companies for higher than necessary rates
For the past few years the company has had a $12M line of credit from the "Frost Group" which Dr. Frost owns. The credit line has ~11.5% APR.
In the past, the company seems to have drawn from this credit line despite having access to other credit lines at 2.8% + LIBOR (~5%).
Interest payments from OPKO to Dr. Frosts' "Frost Group" have totaled over $4M
In March 2009, OPKO accepted a $3M, 1 month loan from the "Gamma Trust", controlled by the company's CTO. The annualized interest rate was 21%, higher than existing lines of credit with room to draw from.
Questionable purchases of assets from the "Frost Group"
The company purchased two license agreements from Dr. Frosts' "Frost Group" for $150K on March 5th, 2010. The company provided little detail into the nature of the transaction and stated vaguely that part of it was for the "reimbursement of certain expenses of $50 thousand". No information was given on what these expenses may be.
Use of Company funds to fund obligations of the "Frost Group"
In 2009, the company purchased $2.5M shares of Cocrystal in which Mr. Frosts' "Frost Group" already had a large stake.
The "Frost Group" already had $5M invested and was required to invest another $5 million in both 2009 and 2010.
Under Dr. Frost's direction, OPKO opted to pick up $2.5M (50%) of this obligation in 2009, relieving the "Frost Group" of half the obligation.
Company repurchases shares from company insider, while diluting shareholders soon before and after
On June 11th, 2011 the company repurchased 2.4M shares ($8M) from an early investor in Acuity Pharmaceuticals, the Company's predecessor. The company engaged in this private transaction despite continued large share dilution of common stock holders both before and after the repurchase.
OPKO leases various buildings from the "Frost Group"
OPKO pays tens of thousands of dollars to the "Frost Group" each year in lease payments for various sites including their headquarters.
OPKO originally had exercised the right to buy their headquarters property from a third-party after their lease expired. Instead, the company handed the rights over to Mr. Frosts' "Frost Group", who in turn leased it back to the company.
Questionable transaction with Fabrus, LLC
In November, 2010 the company acquired 13% of Fabrus' outstanding shares. OPKO stated that it was "part of a $2.1 million financing for Fabrus and included other related parties."
The "other related parties" turned out to include "Frost Gamma Investments Trust", of which Dr. Frost is the sole trustee, and "Hsu Gamma Investment, L.P.", of which Jane Hsiao, the Company's Vice Chairman and Chief Technical Officer, serves as the general partner.
Additionally, Richard Lerner, a director of OPKO, owned approximately 5% of Fabrus prior to the transaction.
Supporting References
All data and information pulled from Morningstar, sec.gov and OPKO's 2011, 2010, 2009 annual reports. Just search for the keyword below and it should bring you to the appropriate section.
OPKO 2011 10K: DOWNLOAD
Share Dilution statistics: Morningstar, Risks Related to Ownership of Our Common Stock
Draws from lines of credit: Note 12 Related Party Transactions, Note 6 Debt
Asset Purchases: Strategic Investments
Share Repurchases: Liquidity and Capital Resources
Preferred Shares: Note 7 Equity Offerings
Building Leases: Item 2. Properties, Series A Preferred Stock, Series C Preferred Stock, 8% Series D Cumulative Convertible Preferred Stock
Share Issuance at Discounts: Note 7 Equity Offering
Disclosure: I have no positions in any stocks mentioned, but may initiate a short position in OPK over the next 72 hours.
Additional disclosure: I have no positions in the mentioned securities. The information provided includes estimates and approximations subject to judgement. It is recommended that you conduct your own research before investing.