The natural gas market is facing an unprecedented glut. We examine the latest outlook.
Natural gas prices fell back below $2.30/mmbtu today after the Energy Information Administration reported that storage operators injected 11 bcf into storage last week. That was slightly above market expectations that were calling for an injection between 5 and 10 bcf.
NATURAL GAS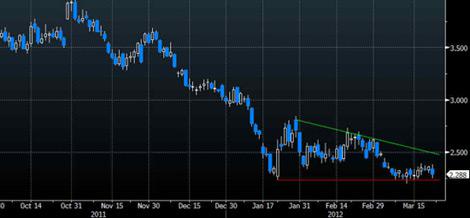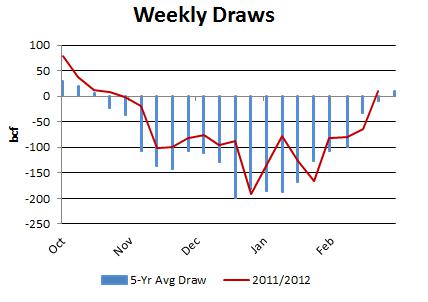 Though the withdrawal season is now officially over, volatility in the natural gas market is likely to persist for the next several months at least.
Taking a look at market fundamentals, inventories troughed at 2369 bcf in the week ending March 9, the highest winter carryout ever.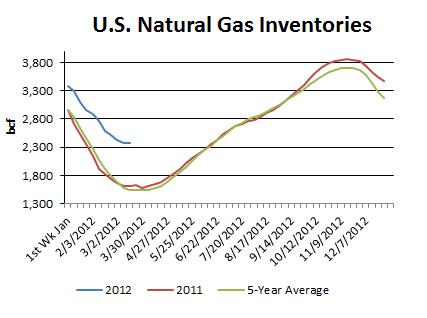 The situation is just as bad in Canada, where inventories troughed last week at 479 bcf, over twice the level of last year.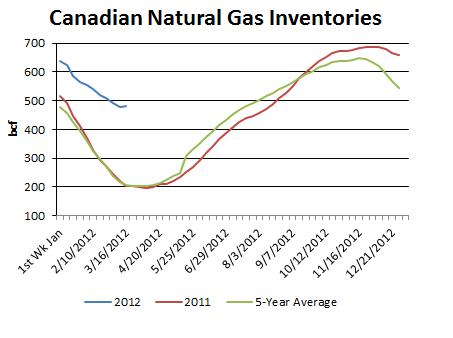 Combining the two, North American natural gas inventories are now a whopping 1045 bcf above the year-ago level and 1107 bcf above the five-year average (calculated using a slightly different methodology than the EIA).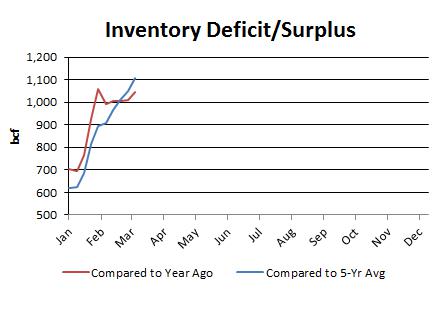 This unprecedented surplus must now be worked down by the start of the next heating season, or else inventories will bump up against storage capacity limits.
Over the past five years, injections have averaged 2172 bcf from now until November, when withdrawals typically begin. That would take inventories to 4552 bcf, above the EIA's estimate of storage capacity totaling 4352 bcf.
The range for injections in recent years has been from 1460 bcf in 2002 to 2501 bcf in 2003. The past four years have seen remarkably similar injection totals. The years 2011, 2010, 2009 and 2008 saw injections of 2240, 2220, 2182 and 2175 bcf, respectively.
The typical level of injections would need to be reduced by 200 bcf at least between now and November, in order to rebalance the market.
That catalyst for that rebalancing is likely to come in two forms. One is production cutbacks. The number of rigs drilling for natural gas fell to 663 last week, falling below the tough of the previous downturn in 2009 and the lowest level in 10 years.
The decline in drilling activity will undoubtedly have an impact in bringing down output, but to what is extent is arguable, as we wrote in our last natural gas report.
The second way the market is rebalancing itself is coal-to-gas switching, whereby utilities switch from burning coal to burning gas to generate electricity. We've already seen a significant tightening of the market due to this factor.
Coal prices, though down due to the competition from gas, have held up relatively well. High costs have prevented prices from dropping even more. Central Appalachian Coal prices were last trading near $57/ton, well above the lows of 2009.
CAPP COAL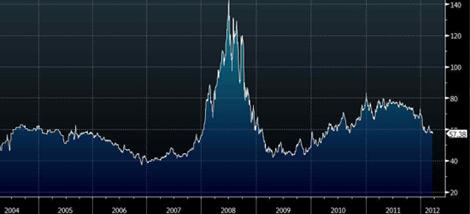 Coal's strength bodes well for continued coal-to-gas switching. Nevertheless, the coal-to-gas switching demand evaporates at higher prices, thus capping any rallies in gas.
Conclusion
In our view, prices for natural gas likely have bottomed out already near $2.23. But upside is limited amid an unprecedented glut of over 1000 bcf. Coal-to-gas switching has provided a floor for prices, but upside is capped. The impact on production due to the decline in the rig count remains to be seen and will determine whether gas can eventually rally to higher levels in the medium term.