Good: VZ, T, VOD
Are you tired of elbowing your way to the front of those Apple (NASDAQ:AAPL) Store queues? If you are one of those people, fortunately, both Verizon (NYSE:VZ) and AT&T (NYSE:T) are more than willing to sell you their new 4G-connected iterations -- alongside a new data plan, I am sure. As an investor, I am more than willing to continue pumping more of my investment capital into either of these stocks. If I had to choose one over the other it is hard to bet against a proven DG champion like T, but I would have to say VZ.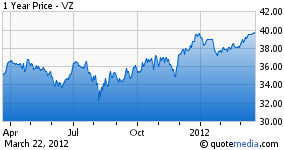 History VZ
Verizon Communications was formed in June 2000 with the merger of Bell Atlantic Corp. and GTE Corp. According to the Verizon website, the company name is based on the Latin word veritas, which means "certainty and reliability," and horizon, meaning "forward looking and visionary." Bell Atlantic had been a Regional Operating Bell Company formed in 1982 by the breakup of the American Telephone and Telegraph Co., which was the subject of an antitrust lawsuit filed by the U.S. Department of Justice. General Telephone & Electronics Corp. was, like Bell Atlantic, one of the world's largest telecommunications companies, and was a leading wireless operator in the U.S. The combined company would be able to provide a full package of communications services, including long-distance and data plans.
Verizon Wireless is a joint venture between parents Verizon Communications and Vodafone (NASDAQ:VOD). It uses CDMA technology for its 2G and 3G network, and LTE technology for the 4G network that it launched in December of 2010.
Bad: Frontier (NYSE:FTR)
I am not willing to put another hard earned dollar in this company ever again. No amount of CEO buying has been able to mask their increasingly troubling financial situation. Don't get caught up by an enticing dividend here. I did. I learned the hard way on this one folks. Everybody has one of those stocks that they know they should have sold but held onto it a little bit too long and regretted it with a passion.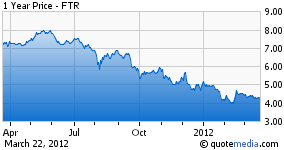 Ugly: Partner Communications (NASDAQ:PTNR)
Don't get suckered into this high-yielder either. Avoid like the Plague. The shorts have rode this cash cow into oblivion. Their market share in Israel is shrinking because of increased competition. They face lawsuits for shady business practices. Need I say more.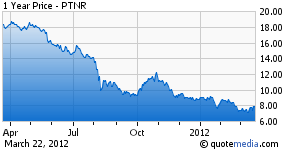 Closing
Stay the course on this one. Pick a proven winner in VZ, T, or VOD. The dividend yield on FTR and PTNR looks enticing but it will end up costing you more money and mental anguish in the long run.