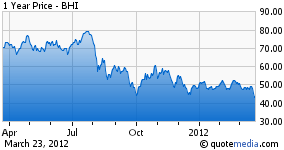 Baker Hughes (NYSE:BHI) has about 57,000 employees, in 80 countries and provides drilling products and services to the oil and natural gas industry. The company recently warned that the first quarter of 2012, would be weaker than expected, and that cause the stock to drop significantly. The company said earnings for the quarter would be below the $1.22 per share level it reported in the fourth quarter due to lower profit margins. It blamed project delays in Latin America as well as weather and the mix of product sales. This news took the stock down from about $48 per share, to around $43 per share in just a couple of days. While weaker margins are a short term disappointment, long-term investors should look forward and consider this as a potential buying opportunity. Here are 5 reasons to consider buying Baker Hughes stock on this major pullback:
1) Barclays names Baker Hughes as one of its top picks for 2012 and believes the stock has upside of about 70%. With the stock now trading at the low end of the trading range, these shares appear to have more upside than downside.
2) Baker Hughes is poised to ride the trend of higher oil prices for years to come. Some investors and analysts believe that oil will rise to $200 per barrel, sooner or later. The demand for oil continues to grow as emerging market consumers in countries like China and India increase their consumption of energy. As oil prices rise, major oil companies will be forced to drill in more remote locations and drill deeper. This will boost demand for oil service companies like Baker Hughes. Oil sector stocks make sense for investors who want to position themselves to benefit from rising oil prices, and shield their portfolios from the inflation and the loose money policies by central banks. As governments continue to print money, investors will keep seeking hard assets to buy like oil and gold stocks.
3) Baker Hughes is a major company with about $20 billion in annual revenues. It also has a solid balance sheet with about $1 billion in cash. Baker Hughes shares have a book value of about $36.03 per share, which continues to grow over time as this company earns more profits.
4) The current share price appears to be an opportunity to "buy low". With Baker Hughes stock trading close to $43 per share, it's now almost half off the 52-week high of $81 per share. It's also just about $1 above the 52-week low of $41.91, and by using history as a guide, buying at this level has made sense and rewarded investors in the past. Furthermore, the stock does offer a dividend which yields 1.2%, so investors will be paid while they wait for a higher share price.
5) Baker Hughes has been reporting solid earnings: Adjusted fourth quarter earnings for 2011, came in at $534 million, or $1.22 per diluted share. Adjusted earnings for the full year 2011, were $1.84 billion or $4.20 per diluted share, which compares very favorably to $2.06 per diluted share for 2010. Investors who are dumping this stock near the 52-week low over a single quarter that was slower than expected, could regret their focus on the short-term.
Baker Hughes appears ready to take advantage of rising global oil
demand for many years to come. With the shares at just about $43, the price to earnings ratio is now below 8 times forward earnings. The average stock in the S&P 500 Index trades for over 12 times earnings, that makes this stock look undervalued. If Baker Hughes were to trade with an average market multiple, it could rise by about 50%. Investors who have a long-term perspective should view the recent drop in these shares as a buying opportunity. However, since the stock is weak, it makes sense to average in over time in case it drops further.
Here are some key points for BHI:
Current share price: $43.22
The 52 week range is $41.91 to $81
Earnings estimates for 2012: $4.61 per share
Earnings estimates for 2013: $5.56 per share
Annual dividend: 60 cents per share which yields 1.3%
Disclosure: I have no positions in any stocks mentioned, and no plans to initiate any positions within the next 72 hours.
Disclaimer: Data is sourced from Yahoo Finance. No guarantees or representations are made. Hawkinvest is not a registered investment advisor and does not provide specific investment advice. The information is for informational purposes only. You should always consult a financial advisor.