Citigroup's recent article about North America becoming the next Middle East for energy by 2020 was a provocative and entertaining piece of journalism. It also confirmed my own view that we are going through seismic shift in domestic energy production. One sector that should continue to do very well in this scenario is pipeline MLP's that will benefit as they build out infrastructure to bring all these new domestic energy sources to customers. They also provide generous and growing dividends in a low yield environment. One stock I think should do very well over the long term is below.
Chesapeake Midstream Partners (CHKM)
7 reasons CHKM offers solid value for income investors at $30 a share:
Earnings growth is solid. The company made $1.37 per unit in FY2011, is scheduled to make $1.50 in FY2012 and analysts have it earning $1.74 in FY2013.
The stock yields 5.1%. More importantly, since it issued its first distribution in November 2010; it has grown its quarterly payment from less than 22 cents a share to the current 39 cent quarterly distribution.
It is not impacted by low natural gas prices and even Jim Cramer is a fan and recently hosted the company's CEO on Mad Money.
Revenues are growing rapidly. The company booked just under $566mm in revenue in FY2011. Analysts have its sales at $704mm in FY2012 and $824mm in FY2013.
The company has beaten earnings estimates for the past three quarters. Consensus earnings estimates for FY2012 and FY2013 have also risen for CHKM over the last three months.
It has a very reasonable five year projected PEG (1.3) for a stock that yields over 5% and the median price target for the 13 analysts that cover the stock is $33 a share.
The stock has shown consistent appreciation since it went public in Q32010 and is solidly above its 200 day moving average (See Chart).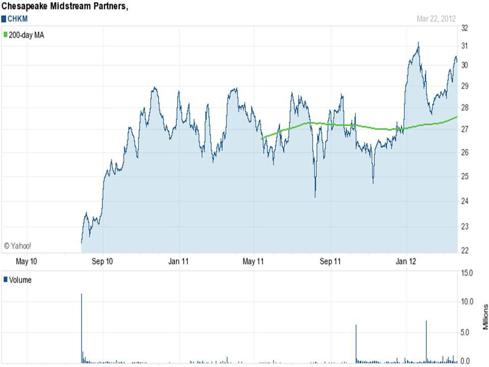 Click to enlarge
(Click to enlarge)
Disclosure: I have no positions in any stocks mentioned, but may initiate a long position in CHKM over the next 72 hours.