On March 29, at 5pm ET, Research In Motion (RIMM) is scheduled to report earnings for the fourth quarter and fiscal year 2012 that ended March 3. RIMM offered relatively conservative expectations in its Q3 guidance on December 15, 2011:
Q4 Outlook
Revenue for the fourth quarter of fiscal 2012 ending March 3, 2012 is expected to be in the range of $4.6-$4.9 billion. Gross margin percentage for the fourth quarter is expected to be approximately 38%. BlackBerry smartphone shipments are expected to be between 11 million and 12 million units. Earnings per share for the fourth quarter is expected to be in the range of $0.80-$0.95.
Moreover with regard toward EPS:
The Company's GAAP net income for the quarter was $256 million, or $0.51 per share diluted, compared with GAAP net income of $329 million, or $0.63 per share diluted, in the prior quarter and GAAP net income of $911 million, or $1.27 per share diluted. Adjusted net income and adjusted diluted earinings per share exclude the impact of pre-tax charges of $54 million ($40 million after tax) to revenue related to the service interruption experienced in the third quarter, $485 million ($356 million after tax) for the PlayBook inventory provision taken in the third quarter...
As contrast in the 3Q RIMM reported $5.2 billion in revenue, a 33% increase from Q2 and a 6% decrease from the same quarter the previous year. Gross margin was 27.3% and smartphone shipments were 14.1 million.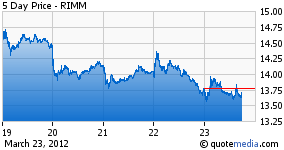 While value investors and those who have held long positions have high hopes for RIMM's long-term future, analysts are indicating low expectations for the Q4 report. During the 4th quarter RIMM made significant changes, promoting a new CEO, with the two former CEOs and board chairmen resigning their positions and taking up board director positions while still maintaining the two largest ownership stakes. In spite of being largely seen as a positive change for the company, analysts are on average expecting RIMM to meet guidance on the low end based on slipping phone sales, with $.85 per share.
Several analysts have recently suggested RIMM will miss or be at the low end of guidance, particularly with regard to smartphone shipments. Jefferies & Co.'s Peter Misek recently stated, "We believe RIM's low-end handset sales trends have continued to deteriorate in North America, Latin America and Europe. In particular, sales in Europe decreased significantly towards the end of the quarter. We believe this is very negative as sales outside of the U.S. had typically been more resilient. Our checks indicate that sales in Asia seem to be okay." More recently Stern Agee's Shaw Wu cut previous estimates from $.95 to $.86 per share.
Currently only one out of 42 analysts recommends RIMM as a "buy," while 30 out of the 42 recommend RIMM as a "hold." Last week, a one-day 7% increase in the stock price was largely thought to be the result of rumors of a buy-in by competitor Samsung (OTC:SSNLF), however some saw the rise caused by the lack of a pre-earnings announcement by RIMM. In addition to financial reporting next week, investors should expect to hear more about the recent acquisition of Paratek Microwave Co, of which specific information has yet to be released. Moreover RIMM will likely provide more information on the progress of its OS, smartphones, and Mobile Fusion for enterprise.
Disclosure: I am short RIMM.