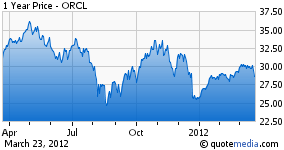 A recent quarterly report for Oracle (NASDAQ:ORCL) has moved the shares into a much higher open (just north of $31/share) on March 21st 2012, the day after the release of the report. This is after a disastrous Q2 2012 report released on December 20th, which caused the stock to drop as low as $26/share and caused many to question the company's capacity to grow. God forbid the company misses the analysts' forecasts.
Many analysts are now suddenly excited (again), particularly because of the company's incredible non-GAAP EPS of $.62/share. The company's operating margins are expected to be better than ever, which partially explains why the EPS numbers were indeed so solid. Exalytics, according to CEO Mark Hurd, should continue to have a major competitive advantage in the market due to Oracle's ability to integrate with Oracle Business Intelligence and Hyperion Enterprise Performance Management applications.
Despite this, there is no empirical improvement in Oracle's hardware sales. In Q1 2012, Oracle's hardware products brought $1.03 billion in revenue. In Q2 2012, Oracle's hardware sales brought $953 million of revenue. The number further deteriorated in the most recent quarter, where it brought only $869 million. While this can be blamed on a variety of external factors, the fact of the matter is that Oracle hardware revenue is declining, and Exalytics sales are sluggish. This "competitive advantage" doesn't seem to be translating into any tangible results. Exalytics and the other products may prove us wrong in 2012, but what will change the trajectory of this market?
On the bright side, software revenue continues to grow at a steady and predictable rate which has kept many investors faithful to Oracle. The dark side to this is that new software license sales, and later software support revenue, is deeply threatened by cloud computing. Since Oracle investors have baked so much growth potential into their stellar software division, we could start to see some trouble in the numbers if competitors that are better-positioned for delving into the cloud computing market outmaneuver Oracle. Like inferred earlier in the article, Oracle's hardware division is showing no clear signs of improvement thus far which means that disruptions in the software market will cause some noticeable damage in the tech giant's growth. It wouldn't be surprising to see those growth-oriented hedge funds holding the stock run in terror if Oracle stops growing.
Accurately predicting the future of the information technology market is notoriously difficult, but what we do know is that Oracle is facing extreme competition in the business software market and it's questionable whether or not competitive advantage can be maintained for much longer. Salesforce.com (NYSE:CRM), one of the most popular cloud computing plays on the market, is a great example of how Oracle's software license sales could be busted in upcoming years as companies look to cheaper and (arguably) more efficient methods to organize themselves.
It's true that Oracle has been pursuing an acquisition strategy to diversify itself and move into the cloud computing space more handily, but ORCL does require a leap of faith at this point as far as investing goes. The company's prospects in cloud computing have to be closely watched, because we wont' be able to rely on software licenses and Oracle's hardware sales forever. Also, watch IBM (NYSE:IBM), because their growth in the software market will directly eat away at Oracle's biggest source of growth.
Disclosure: I have no positions in any stocks mentioned, and no plans to initiate any positions within the next 72 hours.