New York-based hedge fund JAT Capital, founded in 2007 by Portfolio Manager John Thaler, manages $2.7 billion in assets, per its latest SEC 13-F Q4 filing. Mr. Thaler covered the technology, media and telecom (TMT) sectors at hedge fund Shumway Capital Partners prior to founding the firm. As such, even though the firm is biased towards the TMT sectors, with an over-weighted 40% of its assets deployed in the sector, it also invests in the consumer and industrial sectors. The fund was a top 25 performer last year, returning 12.7% versus the 0% return for the S&P 500 index, and negative returns for the average hedge fund. About 45% of JAT's assets are deployed in large-caps, another 45% in mid-caps and the remaining 10% is invested in small-cap equities.
We analyzed JAT's equity holdings in its Q4 13-F to determine its highest conviction bets (see Table), selecting the largest buys and sells in size, where the buy/sell is also a significant proportion of its prior quarter position in that company. Based on that analysis, the following are its high conviction bullish positions, that are also trading at a discount to the peers in their group (see Table):
Western Digital Corp. (NYSE:WDC) and Seagate Technology (NASDAQ:STX): Both WDC and STX manufacture hard disk drives for desktop and notebook computers, and enterprise and consumer electronics markets. JAT made large high conviction bets in Q4 in both stocks, adding a new $73 million position in WDC and a new $151 million in STX. Other major institutional investors that made large bullish bets on WDC in Q4 include Ameriprise Financial adding 3.0 million shares to its 3.3 million share prior quarter position, and Citadel Advisors adding 0.9 million shares to its 1.4 million share prior quarter position. Also, those with bullish bets on STX in Q4 include Ameriprise Financial adding 7.6 million shares to its 2.1 million share prior quarter position, and Morgan Stanley adding 3.0 million shares to its 3.8 million share prior quarter position.
Both WDC and STX shares are in strong rally mode, approaching multi-year highs, and up about 30% and 75% YTD respectively. Both reported excellent December quarter reports at the end of January, obliterating analyst earnings estimates and guiding higher. The shares of both companies are up strongly since the quarter reports; shares of WDC trade at 4-5 forward P/E and 1.7 P/B, and STX shares trade at 3-4 forward P/E and 3.7 P/B compared to averages of 17.5 and 2.6 respectively for their peers in the computer storage devices group.
While both stocks are attractive from a valuation standpoint, STX shares are more undervalued, trading at a lower forward P/E of 3.1 based on FY 2013 earnings of $8.85, up from $1.24 in 2011 at an average annual rate of 167.2%, while WDC trades at a relatively more premium 4.8 forward P/E, with earnings projected to grow at a relatively more modest annual rate of 63.5% from $3.28 in 2011 to $8.77 in 2013. Furthermore, the removal of major portion of the world's hard disk drive manufacturing capacity in the Thai floods last year and the recent acquisition of Hitachi's hard drive business by WDC are expected to be a net positive for both companies going forward, raising averages selling prices and margins for their products for at least the intermediate-term.
Williams-Sonoma Inc. (NYSE:WSM): WSM is a specialty retailer of products for the home, operating 592 home furnishings and accessories stores. JAT added a new $65 million position in Q4. Other major institutional investors with large bullish bets on WSM in Q4 include hedge fund Carlson Capital adding a new 0.8 million share position, and another top ranked tech-focused hedge fund Coatue Management adding a new 0.6 million share position. WSM beat analyst earnings estimates in its latest Q4 (ending January) reported two weeks ago, and guided Q1 EPS below consensus; its shares trade at a current 17.2 P/E and 3.2 P/B compared to averages of 18.9 and 2.6 for its peers in the retail home furnishings group.
Other high conviction buys by JAT in Q4 include (see Table):
The following are JAT's high conviction bearish picks based on their Q4 selling activity (see Table):
Baidu Inc. (NASDAQ:BIDU), often touted as the Google of China, a leading Chinese provider of internet search, targeted online advertising and other internet content services, in which it cut $319 million from its $477 million prior quarter position;
Priceline.com Inc. (NASDAQ:PCLN), a pioneer of name-your-own price service, and a diversified online travel services company providing airline ticket, hotel room, car rental, vacation package, and cruise services through Priceline.com, in which it cut $317 million from its $375 million prior quarter position;
Netflix Inc. (NASDAQ:NFLX), a provider of subscription based Internet services for watching online movies and TV shows in the U.S. and internationally via Netflix.com, and a service to deliver DVDs and Blu-ray discs to their homes for subscribers in the U.S., in which it cut $220 million from its $310 million prior quarter position;
Sina Corp. (NASDAQ:SINA), a Chinese internet portal offering media content and services for China and global Chinese communities, in which it cut out completely its $154 million prior quarter position;
Molycorp Inc. (MCP), engaged in the mining and processing of rare earth ores at the mountain pass facility near the CA/NV border, in which it cut out completely its $149 million prior quarter position; and
Sirius XM Radio (NASDAQ:SIRI), a provider of satellite radio services in the U.S. and Canada via approximately 135 channels of commercial-free music, sports, news, talk, traffic and weather on a subscription basis, in which it cut out completely its $69 million prior quarter position.
Table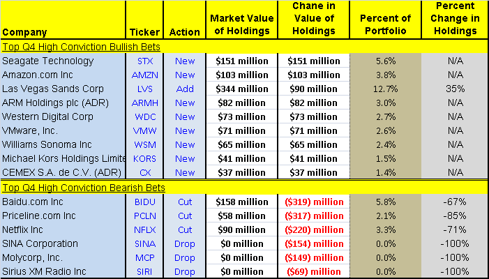 Click to enlarge
(Click to enlarge)
Disclosure: I am long MCP.
Credit: Historical fundamentals including operating metrics and stock ownership information were derived using SEC filings data, Zacks Investment Research, Thomson Reuters and Briefing.com. The information and data is believed to be accurate, but no guarantees or representations are made.
Disclaimer: Material presented here is for informational purposes only. Nothing in this article should be taken as a solicitation to purchase or sell securities. Before buying or selling any stock you should do your own research and reach your own conclusion. Further, these are our 'opinions' and we may be wrong. We may have positions in securities mentioned in this article. You should take this into consideration before acting on any advice given in this article. If this makes you uncomfortable, then do not listen to our thoughts and opinions. The contents of this article do not take into consideration your individual investment objectives so consult with your own financial adviser before making an investment decision. Investing includes certain risks including loss of principal.