A lot of investors seem to think that all a company has to do to succeed in health care is develop a better therapy and the patients and docs will magically appeal. Unfortunately, that's never been true - strong clinical data and large under-served patient populations certainly help make a good story, but strong marketing often matters quite a bit.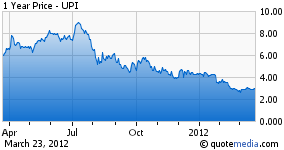 That seems particularly relevant in the case of micro-cap med-tech company Uroplasty (NASDAQ:UPI). The company's Urgent PC neurostimulation system for overactive bladder really does seem like a viable alternative in the $3 billion market it serves, but adoption has been slow and the company still has a lot yet to prove.
A New Approach To An Old Problem
Urinary incontinence is a pretty common age-related medical problem. While rates of occurrence vary on the basis of how incontinence is defined (from 5% to 50% of the over-65 population), most urologists seem to agree that between 15% and 25% of this group could benefit from some sort of direct medical intervention. When factoring in other prior conditions like cystitis and prostatectomy, the numbers can be even higher in these sub-groups.
Many incontinence patients deal with it by not dealing with it - using absorbent pads and other products to mitigate the condition, as they are either unwilling or unable to receive more advanced medical attention. For those patients who do seek care, biofeedback therapy and muscle exercises may be helpful, and there are drugs from companies like Pfizer (NYSE:PFE) (Detrol) and GlaxoSmithKline (NYSE:GSK) (Vesicare) that can help.
Unfortunately, these drugs don't help everyone and some cannot abide the side-effects. Once drugs fail, the next step is usually surgery. There are a variety of surgical procedures out there, and companies including Bard (NYSE:BCR), Johnson & Johnson (NYSE:JNJ), Boston Scientific (NYSE:BSX), and Covidien (COV) have built solid growing businesses around tools and bioimplants (like meshes) for this market.
Then there is Uroplasty and its Urgent PC approach. Urgent PC is a neuromodulation platform that uses percutaneous tibial nerve stimulation (PTNS) to deliver an electrical pulse to the sacral nerve complex to reduce or eliminate occurrences of incontinence. This procedure is done on an out-patient basis, requires no anesthetic, and require no implant for the patient.
The Benefits And Drawbacks
There are a lot of benefits to the Uroplasty PTNS approach. Side-effects are minimal and one treatment per week (lasting about 30 minutes) for 12 weeks is usually sufficient, though some patients will require follow-up procedures every few weeks.
Efficacy is also solid. Over two dozen studies have been conducted with PTNS, showing efficacy rates ranging from 60% to 80%, with two randomized studies showing 73% efficacy (Orbit) and 55% efficacy (Summit).
By way of comparison, while top-flight urological surgeons boast of 80% to 100% efficacy, real-world results are much different. Stated re-operation rates are around 30% and some posit that mid/long-term failure rates for some procedures may exceed 75%. Keep in mind, too, that surgery always involves the risk of complications (as seen with the recent class action lawsuits over transvaginal mesh). Surgery also carries a higher price tag - while individual treatment reimbursements for PTNS run about $125 to $175 (or $2,100 for a full 12-week course), incontinence surgeries start at over $3,000 and can easily approach $14,000 if complications or re-operations come into play.
All of that being said, it's not as though Uroplasty has had smooth sailing thus far. The company received FDA 510(k) clearance back in 2005, but still only had about 500 active accounts in the last quarter (and about $2 million in revenue).
Some of the adoption problem can be tied to reimbursement. While 10 of the 13 regional Medicare carriers cover the procedure, the process has not always been smooth; the recent receipt of a special code specific to PTNS in Florida should help, as should ongoing coverage discussions between Uroplasty and two of three Medicare holdouts. Uroplasty also boasts of private coverage of roughly 84 million lives.
Apart from reimbursement, marketing is also an issue. Uroplasty is a small company with, I believe, about 42 sales reps. That's a pretty sizable deficit compared to the small armies that J&J, Covidien, and Bard can employ, not to mention the fact that it takes some effort to convince the target docs and administrators that they're better off directing patients to PTNS versus surgery.
Could Competition Become A Bigger Threat?
Right now, Uroplasty is the only company I'm aware of that markets PTNS equipment. While Uroplasty's patents on tibial nerve stimulation probably do not completely block out competitors, the current size of the market very well might.
Medtronic (NYSE:MDT) does sell a competing implantable sacral nerve stimulation therapy (InterStim), this product hasn't really been a big seller so far. Likewise, St. Jude Medical (NYSE:STJ) and Boston Scientific have sacral nerve stimulation technology that could come into play at some point. It should be noted, though, that these are implantable approaches based on their existing technologies. Patients will have undergo surgery for the implant and the overall therapy costs are higher.
In the meantime, this is a fairly typical (for med-tech) razor/razor-blade model, where Uroplasty sells both pulse generators and disposable leads. As investors can see reviewing Uroplasty's patents, the company has an interesting way of preventing lead re-use - there's a fuse that blows and informs the generator system that the lead has been previously used.
Sussing Out Fair Value
Med-tech investors with long memories may remember Cyberonics (NASDAQ:CYBX) and the difficulties that company experienced in getting doctors to embrace its implantable neurostimulation approach for epilepsy - even though it showed solid efficacy and presented minimal side-effects compared to the sometimes-debilitating side-effects of anti-epilepsy medication. Unfortunately, Uroplasty is facing a similar uphill climb - with limited marketing resources and large competitors committed to their own approaches (be they pharmaceutical, surgical, or implantable), it will be hard to convert doctors.
That said, if this company can reach that point of "critical mass", revenue could accelerate rapidly. Recent quarter results were mixed in that regard - Urgent PC sales in the US were up nicely on a year-over-year basis, but flat sequentially. At the same time, Uroplasty is also seeing solid growth from Macroplastique - its urethral bulking agent for female stress incontinence.
Based on recent take-outs in the med-tech space (Bard-Medivance, Medtronic -Peak Surgical, Endo Pharmaceuticals (NASDAQ:ENDP) - American Medical Systems), Uroplasty looks undervalued. Those deals went off at trailing EV/revenue multiples of between 5x and 6x; Uroplasty trades at a 2.6x multiple. Unfortunately, a better multiple is going to be contingent on seeing that "hockey stick" revenue growth that med-tech growth investors expect from viable med-tech growth stories.
As was the case for Cyberonics and Advanced Neuromodulation Systems (which St. Jude acquired a while ago), that initial revenue ramp can be frustratingly slow, but breaking through the $25 million revenue barrier can be where the stories start to get exciting. Uroplasty may indeed never get there (despite the safety and cost-benefit profile), but with a long-term DCF analysis suggesting fair value north of $5, these shares may well be worth considering right now in the hopes the company can achieve that breakout.
Disclosure: I have no positions in any stocks mentioned, and no plans to initiate any positions within the next 72 hours.