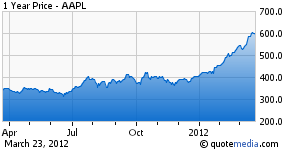 Apple (NASDAQ:AAPL) had a flash crash today, dropping 9%. It can get pretty crazy out there, no?
It's not the first time. Apple's had three flash crashes in the last three years (if you count the May 2010 event when everything collapsed):
May 6, 2010: 50 point drop.
February 10, 2011: 4.5 point drop (a mini-flash crash).
March 23, 2012: 50 point drop.
I'm sure we'll see lots of finger pointing today. A glitch, fat fingers, high frequency trading?
Yet, could it be more than that?
The first two flash crashes marked the start of a bleak four month period for Apple and the market in general: Apple shares went nowhere. The market as a whole behaved even worse. The flash crashes heralded in the two worst trading periods of the last three years. Following May 6, 2010, the market traded down to sideways for four months. Following the February 10, 2011, episode, stocks saw awful action for the next nine months.
All a coincidence or was it a tell? Were they just breakdowns in the mechanicals of the market or were they uncovering real weakness in the stock?
Honestly, I'm going to chalk this one up to nothing more than a fat finger. Still, I'm superstitious - never walk on cracks, walk under ladders - so I'm a little spooked.
We'll soon find out if Apple's flash crash of 2012 will be the harbinger of a miserable tape ahead. If the pattern holds and we make it three out of three, we'll have a new technical bearish sign. Let's call it Rosenman's bear, after you know who. It will be a small comfort to me in case the next few months become brutal: I'm long Apple.
And superstitions aside, I'll just stay long.
Disclosure: I am long AAPL.
Disclaimer: The opinions in this document are for informational and educational purposes only and should not be construed as a recommendation to buy or sell the stocks mentioned. Past performance of the companies discussed may not continue and the companies may not achieve the earnings growth as predicted. The information in this document is believed to be accurate, but under no circumstances should a person act upon the information contained within. We do not recommend that anyone act upon any investment information without first consulting an investment advisor as to the suitability of such investments for his specific situation.