Rising data costs are going to affect a lot of companies in the future. But the one that will be most negatively affected is Apple (NASDAQ:AAPL). The release of the new iPad 3 sent the stock soaring to over $600 a share. But there is a problem. A really big problem. Because it zooms over the internet at lightning speed it burns data even faster. Some consumers are left wondering what to do now:
Brandon Wells got the new iPad last Friday, started wirelessly streaming March Madness games the next day and by Saturday night was out of gas.

Two hours of college basketball-which he viewed mounted to his car dashboard and live at tournament games-had burned through his monthly wireless data allotment of two gigabytes.
Two hours used two gigabytes? It seems that the new gadget, which is 4G LTE can only be used at home if you like to stream video, unless you want to shell out big bucks for data charges. And it actually gets much worse. According to Verizon (NYSE:VZ) if Brandon had watched a video in HD, which many new IPad users want to do, the data use would be 2GB per hour. This is the monthly limit for many users. And wifi is not always the answer. Most of it is too slow for the new tablet.
Albert Park, a 24-year-old working at a start-up in Austin, Texas, tapped into the Wi-Fi network at a local café on Sunday to watch some YouTube videos on his iPad. The network turned out to be too slow for an uninterrupted stream, so Mr. Park switched to the high-speed mobile network operated by his service provider, AT&T (T).

"I'll probably avoid watching videos outside my home," Mr. Park concluded.
And Albert is not alone. The biggest complaints about the new tablet include overheating, longer battery charging time (7 hours) and the inability to get a wifi signal. Many are even having trouble getting a signal at home. But the biggest complaint is from people away from home. This is really affecting business travelers in hotels:
Several customers have complained that the new iPad has problems connecting to Wi-Fi. One user wrote that the Wi-Fi reception was weaker on the new iPad than on their laptop, while another claimed their iPad 2 had "twice the wifi range" as the new iPad, even with the same settings.
So what is the point of having a tablet that you cannot use away from home. The beauty of having an iPad is to be able to tote it around in the car, on the beach, at the coffee shop. To make matters worse the high speed home internet costs are skyrocketing. I wrote an article about the new costs of data and discovered that home internet prices are now divided into several price points, some of which are not fast enough to stream video or audio. ATT Uverse has 5 levels of broadband. Only two (the most expensive) plans will stream video.
These data charges are not going to go lower. As the demand for smartphones and other portable data hogs increase, the prices will just go up. One possible answer is the use of satellites. Right now Sirius XM Radio (NASDAQ:SIRI) can stream video to the car. To add a TV sub to your current satellite radio sub is only $7.99 a month. At this time the video stream will only connect to cars equipped with a backseat receiver: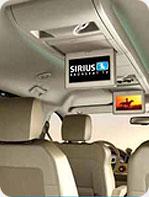 SiriusXM Backseat TV is a pioneering service that delivers live TV from three of the best family networks - Nickelodeon, Disney Channel and Cartoon Network Mobile - to the video screens of select vehicles equipped with a SiriusXM Backseat TV receiver.
However with the invention of the new 2.0 Lynx radio, Sirius has found a way to stream the satellite radio signal to a portable touch-screen device. How long before it has a new wireless gadget that will also stream video. Many investors expected that Apple might make a play for Sirius to solve its data problems. But there is another scenario that many people have not considered. Sirius might come out with its own tablet.
This would be earth shattering. There are so many possibilities. Would
Sirius add phone service and become a carrier like ATT? Or would it merge with a current carrier? The possibilities are endless. There are a lot of Sirius Bears who have said that investors who own the stock are living on hope. That they are dreamers. Absolutely no argument here.
Disclosure: I am long SIRI.