I may have jumped the gun a bit when I penned an article earlier this week telling Sirius XM (NASDAQ:SIRI) investors to "Wake up and brace yourself." As was indicated to me by a reader, perhaps it's best to wait for the smell of coffee, pancakes, and bacon and eggs to reach the bedroom before you wake everyone in the house up. It makes for a more pleasant morning, and you can prepare your breakfast in peace.
Since writing the article, everyone has woken up, but yet the stock has stayed sleeping. Consider the full week chart here :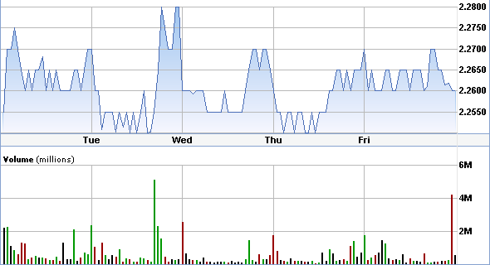 Click to enlarge
While some dreams may have been filled with $2.40, $2.50, and even $2.75, reality has shown a steady week of low volume at $2.25 to $2.28. Volume was so low that the number of shares traded on one day was less than 10 million, when the average is over 50 million. You could have not looked at the stock all week and you really would not have missed a thing, right?
I actually think this week was just the opposite of boring, and that investors and traders alike should look to this week as a sign that something big is brewing. The question, then, is in what direction is this "big" move going to be?
In order to answer that look beyond technical aspects of Sirius XM's 9 month chart here :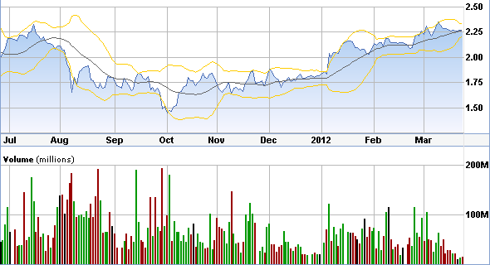 Click to enlarge
This shows narrowing bollinger bands with the share price finding support at $2.25 to $2.26, directly on the 20 day moving average. Since mid November, the 20 day moving average has served as support, and behavior has shown that the share price will retrace to this level and the pop up to the upper band when it does. Past performance is not an indicator of future results, but this technical data is good information to keep in the back of one's mind.
More importantly one must consider what is coming up for next week, and next month in terms of news that may impact Sirius XM. The main issue which may weigh upon next week is March auto sales numbers. Spencer Osborne has been a reliable source for this data, so be sure to keep your eyes open for an article from him once the numbers are released.
I, like many others who have commented on these articles, expect that auto sales numbers will be very good. Since this seems to be the general expectation, and since very good auto sales typically means very good numbers of new subscribers for Sirius XM, then the assumption is that these numbers will be positive for the stock. Because of this I expect at the very least, more flat movement next week, or upward movement, especially so on Friday. I do not see the stock dropping down much, and certainly don't see it dropping below the lower band without bad news about the company or poor macro conditions.
It should always be kept in mind that Liberty's (NASDAQ:LMCA) presence, and the possibility that they could increase their stake or make a tender offer at any time, will likely provide lower end support for the share price as well. Keep an eye out for statements on Monday touting Sirius XM's short interest, as Nasdaq is due to release the 2 week old data on Monday. Educate yourself on what actually comprises this data, and be prepared for it to be trumpeted as a doomsday scenario if it is higher than last reported at 285,847,828, or completely ignored if it has gone lower.
April brings March auto sales data on April 2. April is also the first month that Mel Karmazin has indicated he may begin selling some of his shares in Sirius XM, out of a 60 million share planned sale. I've been clear that I am not concerned about this sale as it was announced long ago, but investors need to be aware that there is a possibility this will begin in the month of April, adding some selling pressure to the market.
April also brings to Sirius XM their first quarter subscriber numbers, churn, earnings, and other metrics which they will disseminate in their first quarter conference call, typically in May. It should be understood that they could also do this call in April, earlier than expected. Investors could also see revisions to guidance if numbers are excellent or even simply "ok." I believe Sirius XM guided very conservatively for the coming year in their last conference call.
Don't let the current share price activity scare you from your stake, or get you down because the stock hasn't skyrocketed yet. It's very unlikely that there is an "bad news" in the pipes, and we're squeezing into the last channel before new 52 week (and for that matter, 3 and a half year) closing price highs are reached. The future looks very promising, both from a technical standpoint, and from the developments of the company itself.
A relaxing week makes for a relaxing weekend. Take a couple of days, refresh, and be ready for Monday when it comes.
Disclosure: I am long SIRI.
Additional disclosure: I am long SIRI April and June $2 calls.