In my recent article on domestic dividend ETFs I was struck by the Vanguard Dividend Appreciation ETF (VIG) and the First Trust Morningstar Dividend Leaders ETF (FDL). VIG, the largest dividend ETF, is the leading performer in its category year to date. FDL is the worst performer, and the only dividend ETF that is negative for the year. Two separate stories, but both providing valuable perspective on the same topic: dividend investing in 2012.
So what can these two ETFs tell us? That's what we are about to explore as we dissect them, but first here's the performance grid of all domestic dividend ETFs year to date via Index Universe.
Click to enlarge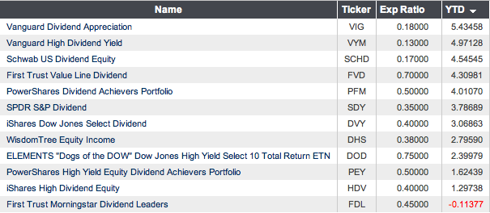 Click to enlarge
Outliers: What's Working And What's Not
Performance outliers, VIG and FDL, deserve an examination as they should provide a contrasting picture of what's working in domestic dividend investing in 2012 and what's not. To begin, here's a graph comparing some fairly standard data on both Vanguard's VIG and First Trust's FDL.

Click to enlarge
VIG is more diversified in number of holdings, has less concentration in its top 10 holdings and has a significantly lower expense ratio. FDL, on the other hand, has more attractive valuation metrics and delivers a substantially higher income stream.
Clearly, the difference in the performance of these ETFs is not simply the expense ratio or yield, as these favor FDL when combined. Instead, the concentrated nature of FDL-- which will help it or hurt it-- has likely been working against it this year. VIG is less concentrated and has probably been positioned in more favorable sectors in 2012.
Sector Selection And Weighting
Sector selection and weighting are often the key drivers of performance when examining dividend ETFs. Dividend ETFs often concentrate holdings in dividend payers unique to their index methodology, and this can create significant sector concentrations. Here are the most recent sector weightings for VIG and FDL from Sponsor websites. First, the sector breakdown for VIG.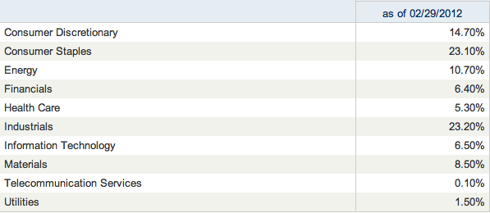 Click to enlarge
Next FDL's sector breakdown.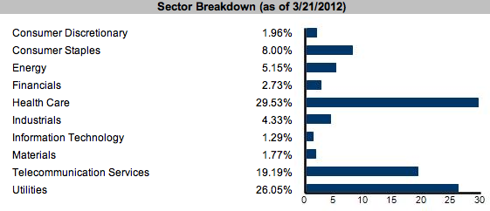 Click to enlarge
VIG's leading sectors are Consumer Staples and Industrials at 23% a piece, followed by Consumer Discretionary at 14%. Together, these top three sectors comprise 60% of the portfolio.
FDL's leading sectors are Health Care at 29%, Utilities at 26% and Telecom at 19%. These three sectors are 74% of the portfolio.
Let's focus on the year to date performance of the six leading, yet different, sector weightings in the two ETFs:
Utilities
Industrials
Telecom
Consumer Staples
Consumer Discretionary
Health Care
We'll also compare weightings in the two best performing S&P 500 sectors this year, Financials and Technology. Both have gained around 20% year to date. Here's the comparison grid.
Click to enlarge

Click to enlarge
FDL is hurt by its second largest sector concentration-- Utilities-- being negative, and the worst performing sector, year to date. In addition FDL has only a 10% exposure to the top four performing sectors in 2012, all of which have produced strong gains.
In contrast, VIG's two top sectors are positive performers. The kicker to VIG's performance is its 50% exposure to the top four performing sectors this year. In addition, it only has a 1.3% exposure to Utilities, the only negative sector this year.
Sector Breakdown Takeaways
So what did we learn from these ETF sector breakdowns? Utility (XLU) and Telecom (XTL) sectors have been the least successful dividend plays in 2012. Consumer Discretionary (NYSEARCA:XLY), Financials (NYSEARCA:XLF) and Technology (NYSEARCA:XLK) have been the most potent sectors to be in by a wide margin. Different sector allocation decisions have been a key reason VIG and FDL are separated by 550bps in performance year to date. We also saw that sector concentration can vary dramatically from one dividend ETF to another, so it pays to do your homework by checking an ETF's underlying holdings.
Inflows Not Outflows
Interestingly enough, both funds are having a year of net inflows according to Index Universe's ETF Fund Flows Tool. VIG and FDL inflows year to date equal about 10.7% and 7.8% of their current asset base respectively. Here's the flow data proving once again that performance and fund flows don't always go hand in hand.


Findings
Comparing ETF peer group performance outliers can be a great way to learn what is working and what is not. In 2012, we see a stark difference between VIG and FDL. While the data reviewed was short term, some immediate conclusions can be drawn on the predictive power of valuation ratios, sector selection, concentration risk and the unpredictable relationship between ETF performance to inflows.
Concluding The VIG and FDL Exam
To be fair to both ETFs highlighted through short term data, I will conclude with a long term performance comparison between VIG and FDL. Yahoo Finance was able to produce a chart going back to 2006, the year both of these ETFs came to market.
After viewing the chart below, it seems that VIG has made a habit of selecting the right sectors and concentration levels. Perhaps that's part of the reason why it's the largest dividend ETF in the United States.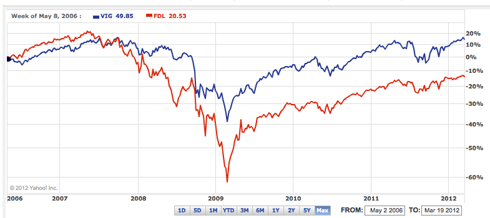 Click to enlarge
Disclosure: I have no positions in any stocks mentioned, and no plans to initiate any positions within the next 72 hours.