This article will be the second in a series of articles about simple portfolio allocations for different levels of risk tolerance. In this article I will be constructing a Conservative portfolio of ETF's.
There are two goals I had for constructing the following portfolio:
Make sure the portfolio is diversified as measured by correlations.
Reduce the volatility of the portfolio by weighting the least volatile funds higher than more volatile funds. I used the 3 month average volatility over the last 12 months. [Volatility data is from ETFreplay.com]
Portfolio Funds
| | | | |
| --- | --- | --- | --- |
| Conservative | Symbol | Weight | Volatility |
| PIMCO Enhanced Short Maturity Strategy ETF | (NYSEARCA:MINT) | 30% | 0.70% |
| iShares Barclays 3-7 Year Treasury Bond | (NYSEARCA:IEI) | 30% | 2.90% |
| iShares iBoxx $ Invest Grade Corp Bond | (NYSEARCA:LQD) | 20% | 4.90% |
| Consumer Staples Select Sector SPDR | (NYSEARCA:XLP) | 20% | 7.80% |
Fund Selection Method
I selected the above funds by roughly following the overall allocation of stocks and bonds, in the corresponding allocation ETF, the iShares S&P Conservative Allocation (NYSEARCA:AOK) ETF. The fund allocated roughly 74% to bonds, and 26% to equities. For the portfolio I chose to go slightly more conservative than AOK, in both allocation to bonds and more conservative equities selection than AOK. So my final allocation would be 80% to fixed income, and 20% to equities. Since the portfolio is conservative I decided use MINT for two reasons, one because it was a short term bond fund that would be less susceptible to interest rate changes and reason two was since the portfolio is at a different risk level I chose the most "volatile" of three "cash" funds I used for the ultra conservative portfolio. For the next two fixed income funds I wanted to go out a little further on the risk spectrum away from short term bonds, to intermediate US Government bonds, and investment grade corporate bonds. I chose to include corporate bonds in the portfolio because corporations have stronger balance sheets than the US Government does, and pays higher a higher dividend yield than equivalent US Treasury Bonds. For the equity allocation of the portfolio I decided to use the same methodology of selecting an equity fund as I used in my article about a Simple Total Return Portfolio. Simply, put I chose the least volatile of the SPDR ETF's because the portfolio is conservative, and the fund that is the least volatile is the XLP.
Below is a table showing the correlation of each fund to each other as well as each fund the iShares Barclays Aggregate Bond (NYSEARCA:AGG) and the SPDR S&P 500 (NYSEARCA:SPY).
Correlations
[Data from ETFscreen.com]
[No Correlation Data for AOK]
| | | | | | | |
| --- | --- | --- | --- | --- | --- | --- |
| | AGG | IEI | LQD | MINT | SPY | XLP |
| AGG | 1 | | | | | |
| IEI | 0.83 | 1 | | | | |
| LQD | 0.5 | 0.46 | 1 | | | |
| MINT | 0.12 | 0.07 | 0.22 | 1 | | |
| SPY | -0.58 | -0.61 | -0.04 | 0.16 | 1 | |
| XLP | -0.53 | -0.57 | -0.11 | 0.18 | 0.89 | 1 |
Returns and Data
[Data from ETFreplay.com]
The following charts and data show the portfolio compared to the iShares S&P Conservative Allocation ETF.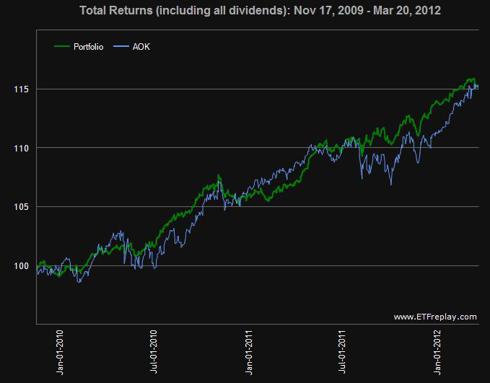 Click to enlarge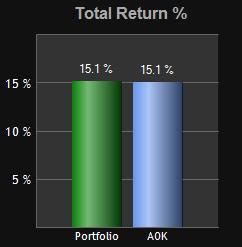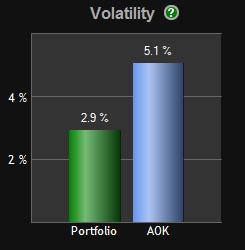 Portfolio Challenges
The major challenge in the portfolio is interest rates. Since February 1st when rates were near there lows for the first quarter, rates have gone up rather quickly, from 1.85% on February 1st to 2.29% on March 21st. As rates rise, long term bond Government bond funds get hit the hardest, and short term bond funds are less susceptible to interest rate increases. Because the portfolio is conservative that is why the short term bond fund, MINT was also included. Also, corporate bonds that are long term like LQD which has an average duration of 11.86 years and the closest US Treasury bond fund in duration was the iShares Barclays 10-20 Year Treasury Bond (NYSEARCA:TLH) which has a duration of 14.67 years. The duration data is from each funds ishares page. From February 1st until March 21st the performance in a rising rate environment shows that LQD had outperformed TLH, LQD has a return of -1.21% while TLH has lost -4.29% over the same time period.
Closing thoughts
The returns of the portfolio over the time period have been the same as AOK, but did so with less volatility which I expected because of a slightly larger allocation to bonds, and more conservative equity allocation than AOK. Since the performance of AOK was very similar to the above portfolio another alternative to accomplish near the same goals as the above portfolio could be just to buy AOK, if you want more investment areas covered, because AOK unlike the simple portfolio here also holds: TIPS bonds, Large Cap stocks, Foreign stocks, High yield corporate bonds, Mid Cap stock, Small Cap stocks, and Emerging Markets stocks. [Holdings from Yahoo Finance]
Disclosure: I have no positions in any stocks mentioned, and no plans to initiate any positions within the next 72 hours.