SiriusXM (NASDAQ:SIRI) provides satellite radio via boxes installed in cars, and is the only competitor offering radio through this "installed" technology, because smartphones have made installations redundant. After almost dying, SiriusXM secured emergency financing in 2009 and climbed a couple feet out of its grave.

Click to enlarge
The great thing about SiriusXM, that results from its old technology, is that old people find it simple to use. Old people have more money than young people, so this has been a lucrative demographic for the company over the years. But now, new technologies are becoming easier to use for the average luddite. To sustain a growth valuation at 32 P/E, SiriusXM needs a catalyst that could outweigh the collapse of its current lead in ease of use.
Management is pursuing such a catalyst in trial memberships, which it offers in tandem with partners who do new and used car sales. One such deal was recently announced: a partnership with Toyota Certified Used Vehicles and Scion Certified Used Vehicles. Used car trial offers in particular are now a focus for SiriusXM, and the Toyota deal illustrates that the focus is being executed as planned.
Of course, trial memberships do not guarantee sustained subscribers. Ultimately, subscribers are people, not cars; newly acquired cars with new trial memberships do not necessarily mean newly acquired customers. In between a trial membership and a new user is the question of whether or not a new user sees value. Yet SiriusXM bulls zoom in on the idea of newly acquired vehicles, assuming that cars are the same as customers.
New and used car buyers have already been exposed to SiriusXM: the company has for years enjoyed general brand awareness as the only satellite radio provider. But the saturation goes beyond brand awareness. Cameron Kaine points out a penetration of 40MM current installations. That represents the core demographic of users who have seen some value. So I wonder, how to reconcile saturation with the market's growth expectations? Is SiriusXM still an underutilized technology?
Some numbers say yes. The company has been growing subscriptions, and placement in newly acquired vehicles has produced an impressive conversion rate around 40%. But these numbers tell a story in the past. These numbers explain SiriusXM's incredible performance in the stock market since 2008. If I could jump in a machine and go back in time, I would love to have these numbers in hand. But we're trying to predict the future. I think a different set of numbers is appropriate: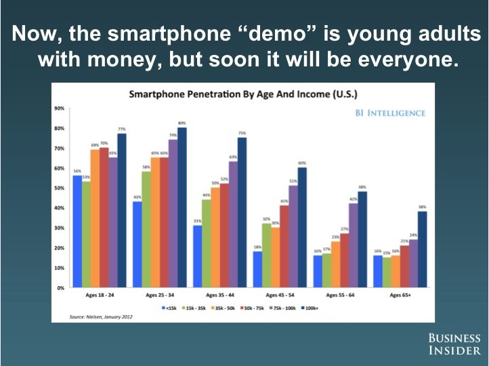 Click to enlarge
BI Intelligence tells the future of old people in the United States overwhelmingly adopting smartphones over dumbphones in the years ahead. Whereas previous SiriusXM trial memberships were often the "first love", exposing a user to the magic of streaming radio, going forward iPhone and Android will conspire with existing Sirius saturation to cheapen the excitement.
My point is, a very strong demographic argument implies that the SiriusXM 40% conversion rate is unsustainable. For 32 times last year's earnings, a prospective buyer should demand an explanation of SiriusXM's future value proposition in times of shifting demographics. We've seen what shrinking margins can do to leading tech sellers; what will they do to SiriusXM?
What is a growth demographic for Sirius? Is it Baby Boomers who previously owned several cars, lost one third of their expendable income in the recession, and have decided this time it's different--suddenly it's time to try out SiriusXM?
Perhaps it is members of Generation X or Y, carrying around iPhones, who want to pay extra for a redundant source of streaming radio? My Google glasses aren't good enough, let me get a SiriusXM box, please?
Perhaps the secret new Sirius subscribers are a subset of an older generation which has reentered the market because now they can drive safely with driverless cars? I wish all these generations the best, but they will probably outlive SiriusXM.
Disclosure: I have no positions in any stocks mentioned, and no plans to initiate any positions within the next 72 hours.