After a disappointing year of earnings from IMAX in 2011, the company may be turning over a new leaf. 2012 is here, and with it comes a new year of potential blockbuster hits due to hit the big screens in the next 6 months alone. Consider the following line up :
The Hunger Games (released)
Wrath Of The Titans (March 30th)
Titanic 3-D (April 4th)
The Avengers (May 4th)
Men In Black III (May 25th)
Prometheus (June 8th)
The Amazing Spider Man (July 3rd)
The Dark Knight Rises (July 20th)
These movies are all highly anticipated films which look to be some of the biggest movies of the year. Consider how well Lions Gate's (LGF) The Hunger Games has already performed, having been released last Friday :
"Gary Ross' The Hunger Games grossed a massive $68.3 million at the Friday box office -- the best opening day ever for a nonsequel and the fifth-highest of all time.
Lionsgate's big-screen adaptation of Suzanne Collins' best-selling young-adult novel, starring Jennifer Lawrence, Josh Hutcherson and Liam Hemsworth, is headed for a record-breaking $140 million to $150 million debut, giving Lionsgate its first tentpole franchise."
For the rest of the article please read The Hollywood Reporter's full article here.
We saw The Hunger Games on IMAX this past weekend and it was a spectacular experience and more importantly, sold out for Friday, Saturday, and Sunday on the IMAX screen for every single showing.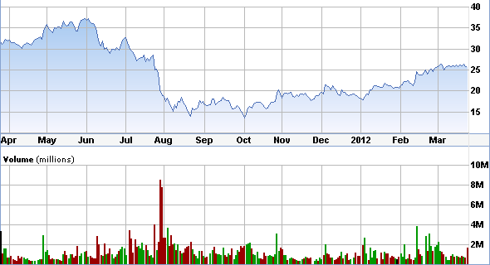 As you can see from IMAX's one year chart above, the stock was punished due to poor earnings several times in a row last year, yet the most recent earnings release of $0.14 per share met with analyst estimates. With IMAX still suffering from this punishment, now is the time to buy.
When choosing our investments, the past matters very little compared to the future, and the future says "blockbuster year" for IMAX. Each and every movie listed above should draw crowds and be some of the biggest sellers by year's end. I know I will be attending each and every one of them. I will see them, along with millions of other people, on my local IMAX screen. I'm banking on this by buying IMAX stock.
Disclosure: I have no positions in any stocks mentioned, but may initiate a long position in IMAX, LGF over the next 72 hours.