Although finding undervalued stocks remains challenging after almost six months of a significant rally, there are still a few firms that continue to pop up on my value screens. One that is reasonably valued, has good growth prospects and is starting to receive upgrades is below.
Actuant Corporation (NYSE:ATU) - "Actuant Corporation designs, manufactures, and distributes industrial products and systems worldwide." (Business Description from Yahoo Finance).
7 Reasons ATU is a solid pick at $29 a share:
The stock has been initiated as a "Buy" at Stifel Nicolaus and at Zacks over the past few weeks.
The company showed solid results from all of its product lines and raised guidance during its recent earnings announcement.
Earnings are showing solid growth. It made $1.68 a share in FY2011. Analysts project it will make $2.06 in FY2012 and $2.26 in FY2013.
The stock has easily beat earnings estimates during the last four quarters. Earnings estimates for FY2012 and FY2013 have also risen over the past month.
Insiders are holding onto their stock (less than 1.5% of total insider shares sold in the last six months) even as stock has appreciated and ATU goes for a reasonable 11 times operating cash flow.
The stock has a forward PE of under 13 and a five year projected PEG of under 1 (.94).
The stock is showing increasing technical strength and is solidly above its 200 day moving average (see chart).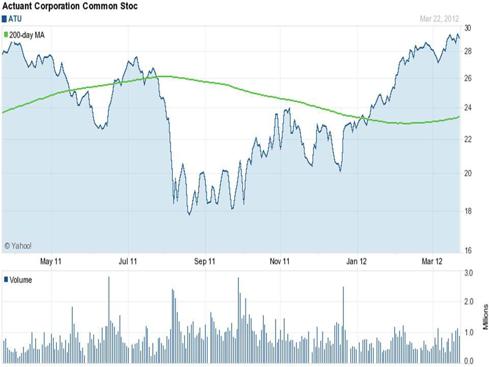 Disclosure: I have no positions in any stocks mentioned, and no plans to initiate any positions within the next 72 hours.