The official Q2 2007 understanding is that Omniture (OMTR) beat the consensus (CrossProfit not included) and earnings came in at $0.03 per share instead of $0.01 per share. Below are excerpts from the latest 10-Q filing with the SEC pertaining to the second quarter.
You decide if OMTR has posted a GAAP profit or loss for the second quarter (and first six months as well).
click to enlarge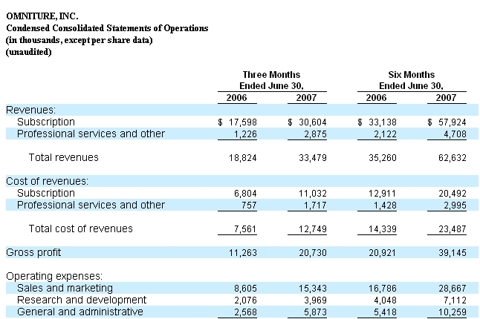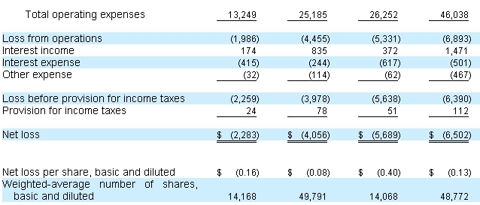 Don't forget that the loss per share is lower in 2007 but on a much higher share count. This means that if you were to take the same share count as in 2006 and apply the 2007 losses the loss would have increased from $0.40 to $0.46 for the first six months. Likewise, in the second quarter the loss would be an increase from $0.16 to $0.29!
The media keeps on flaunting the fact that OMTR has doubled revenues and has added over 300 clients but forgets to mention that this rapid increase in revenue was achieved through the acquisition of two companies. In essence what the mob is doing is showing you only half of the equation. The side you are being shown is the higher revenue. The side you are being asked to disregard is the cost involved in generating this higher revenue which is leading to higher losses, at least for 2007 and 2008.
From the latest 10-Q:
If our customer base continues to grow, it will be necessary for us to continue to make significant upfront investments in the network infrastructure equipment and implementation personnel necessary to support this growth. The rate at which we add new customers, along with the scale of new customer implementations, will affect the level of these upfront investments. Over the past year our gross margins have increased from 59% for the six months ended June 30, 2006 to 63% for the six months ended June 30, 2007, primarily due to more efficient utilization of our network hardware. We are seeking to achieve further economies of scale as we continue expanding our network infrastructure, resulting in a reduction over time of network operations costs as a percentage of total revenues, although improvements in future gross margins are not expected to occur at the same rate experienced from the six months ended June 30, 2006 to the six months ended June 30, 2007.

During the six months ended June 30, 2007, we leased a small portion of our equipment requirements under operating leases provided by third-party financing sources and expect the percentage of our overall equipment requirements acquired under operating leases to increase for the remainder of 2007. Although we do not expect the use of operating leases to have a significant impact on total cost of revenues, when compared to the effect of purchasing this equipment, our capital expenditures will be reduced to the extent we utilize operating leases.

The timing of additional expenditures and equipment operating leases could materially affect our cost of revenues, both in absolute dollars and as a percentage of revenues, in any particular period. In addition, because we incur immediate depreciation and lease expense from our significant upfront network computer equipment requirements as new customers are added, these customers are not immediately profitable. As a result, our profitability can be significantly affected by the timing of the addition of new customers, particularly customers with large volume requirements. At least through March 31, 2014, our cost of revenues and our gross margin will also be negatively affected by the amortization of the following intangible assets: (1) the estimated fair value of the patents licensed from NetRatings; and (2) the intangible assets directly related to our subscription service that were acquired as part of the Instadia and Touch Clarity acquisitions.

We have also experienced, and expect to continue to experience, rapid growth in our operating expenses as we make investments to support the anticipated growth of our customer base. Our full-time employee headcount increased from 33 at December 31, 2002 to 531 at June 30, 2007. We expect operating expenses to continue to increase in absolute dollars, but to decline over time as a percentage of total revenues due to anticipated economies of scale in our business support functions. We also expect our future operating expenses to increase in absolute dollars due to the incremental salaries, benefits and expenses related to the addition of the Instadia and Touch Clarity personnel and any future acquisitions.

We plan to continue investing heavily in sales and marketing by increasing the number of direct sales personnel and the number of indirect distribution channels, expanding our domestic and international selling and marketing activities and building brand awareness through advertising and sponsoring additional marketing events. We expect that sales and marketing expenses will continue to increase in absolute dollars and remain our largest operating expense category. Generally sales personnel are not immediately productive and sales and marketing expenses do not immediately result in revenues. This reduces short-term operating margins until the salesperson becomes more fully utilized and revenues can be recognized. At least through March 31, 2015, we expect sales and marketing expenses to be negatively affected due to customer-related intangible assets acquired as part of the Instadia and Touch Clarity acquisitions.
OMTR openly states that they are not profitable. Where the street gets the notion that OMTR earned $0.03 per share in the last quarter is mind boggling.
Risks Related to Our Business

We have a history of significant net losses, may incur significant net losses in the future and may not achieve or maintain profitability.

We have incurred significant losses in recent periods, including a net loss of $1.3 million in 2004, a net loss of $17.4 million in 2005, a net loss of $7.7 million in 2006 and a net loss of $6.5 million during the first six months of 2007, primarily as a result of significant investments that we have made in our network infrastructure and sales and marketing organization. At June 30, 2007, we had an accumulated deficit of $45.3 million. We may not be able to achieve or maintain profitability and we may continue to incur significant losses in the future. In addition, we expect to continue to increase operating expenses as we implement initiatives to continue to grow our business, which include, among other things, plans for international expansion, expansion of our infrastructure, expenses incurred to acquire and integrate companies and technologies, the development of new services and general and administrative expenses associated with being a public company. If our revenues do not increase to offset these expected increases in costs and operating expenses, we will not be profitable. You should not consider our revenue growth in recent periods as indicative of our future performance. In fact, in future periods our revenues could decline or grow more slowly than we expect. Accordingly, we cannot assure you that we will be able to achieve or maintain profitability in the future.
Investors should read the 10-Q carefully as the company spells this out. Also note that OMTR added $48.2M in goodwill to its balance sheet with regard to the acquisition of Instadia and Touch Clarity. There is always the possibility of an impairment charge. We have no idea why Jim Cramer from CNBC is disregarding the fundamentals. The excuse that OMTR is an acquisition target in the current environment at current valuations is ridiculous. Should CNBC continue to spread disinformation regarding this company, there may be a considerable credibility issue.
Disclosure: Short OMTR.
OMTR 1-yr chart