Even though the stock market is a bit overbought, in my opinion, the economy is steadily improving, even if in less than a robust pace. A sector I still like is regional banks that have avoided the scrutiny, litigation and political broadsides of their larger financial services brethren, such as Bank of America (NYSE:BAC) and Goldman Sachs (NYSE:GS). I particularly like banks located in the Midwest, for myriad reasons:
1. Manufacturing is recovering, especially auto production.
2. The housing market never reached the bubble territory it did on the coasts and in Arizona and Nevada.
3. Huge shale deposits (Primarily Utica) could drive substantial energy production and jobs in the region
4. Low natural gas prices are significantly benefiting the chemical industry in the region
5. The region is adopting more business-friendly policies. Indiana has become a "right to work" state and substantial efforts are being made to roll back unions in Wisconsin and Ohio.
Here are two banks in the region that I particularly like at these price levels.
Huntington Bancshares (NASDAQ:HBAN) - Huntington Bancshares Incorporated operates as the holding company for The Huntington National Bank that provides commercial and consumer banking services. It offers deposit products, including checking accounts, savings accounts, interest bearing and non-interest bearing demand deposits, time deposits, money market deposits, and brokered deposits and negotiable certificate of deposit."(Business Description from Yahoo Finance)
4 reasons HBAN is good long term bargain at just over $6 a share:
Commercial loans have grown at a double digit pace for ten straight quarters as manufacturing in the region is experiencing a significant recovery.
There has been net insider buying in the stock over the last eight months, and the company recently announced a stock buyback authorization.
Both Credit Suisse and S&P have Buy ratings on the stock and provides a solid 2.5% yield. Given growing earnings, improving credit quality and prior dividend levels; I would look for it to rapidly increase its dividend payouts in the next few years.
The stock looks like it has bottomed, shows increasing technical strength and is solidly above its 200 day moving average (See Chart)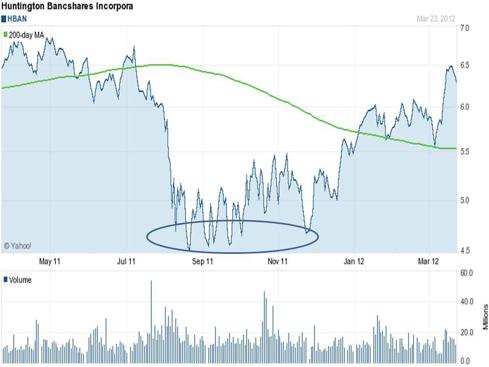 Click to enlarge
LNB Bancorp, Inc. (NASDAQ:LNBB) - "LNB Bancorp, Inc. operates as the holding company for The Lorain National Bank that provides commercial and retail banking, investment management, and trust services to individual, municipal, and corporate customers in Ohio. It offers various transaction and time deposit accounts, including demand deposits, interest-bearing checking accounts, savings accounts, money market accounts, consumer time deposits, public time deposits, and brokered time deposits, as well as cash management services". (Business Description from Yahoo Finance)
4 reasons LNBB is a buy at just over $6 a share:
Insiders have made several purchases and have been net buyers over the last three months.
The bank made $.47 a share in FY2011, and LNBB is expected to book $.66 a share of profit in FY2012 and analysts project $.77 a share in FY2013.
The stock has a forward PE of 8, which is a 40% discount to its historical average. It is also priced at just 1.2 times trailing annual revenues, cheap for a bank.
The stock looks like it is ready to break out of a long term base of $4 to $6 a share, and it crossed over its 200 day moving average earlier in the year (See Chart)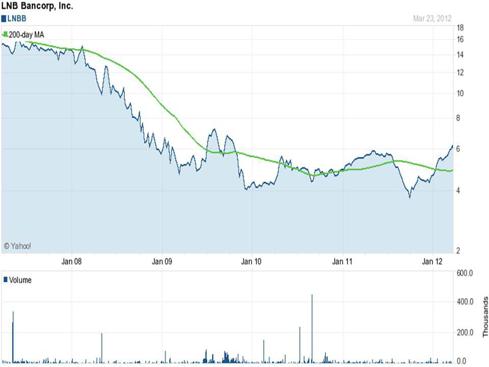 Click to enlarge