As we just transition from the extremely mild winter and into spring, there must be a company who would benefit from this abnormal weather environment. I would like to invite you to take a look at Foot Locker, and let's see if this stock can make your portfolio run away to new heights.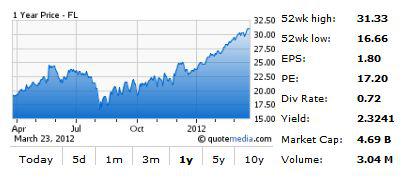 Foot Locker (NYSE:FL) is a worldwide company that sells footwear and apparel that operates 3,402 stores worldwide. The company operates in two segments: Stores and direct-to-customers. The company utilizes 12,574,000 sq. feet to sell $5.62 billion in merchandise a year; this equates to $447.19 per sq. foot.
For the past two quarters, the company has seen strong revenue and earnings growth. For the 4th quarter, FL recorded its top line (revenue) at $1.5B, a 7.9% YoY increase from the prior year. FL also recorded its bottom line (net income) of $81 million, a 42.1% YoY increase over the prior year. Both great numbers!
There are a few areas of concern for us to watch out for in FL's next earnings report:
The company has maintained a strong gross margin through the year 2011, and it has achieved a mediocre operating and profit margins. As far as the operating and profit margins are concerned, these results are not to be proud of, as FL's peers are at 10.20% (operating) and 6.04% (profit) respectively. This compares to FL's 7.74% (operating margin) and 4.94% (profit margin). I do expect these numbers to improve when the company reports its upcoming Q1 results.
The Return on Equity is another area that investors should not to be proud of. For the 12 trailing months, the company has achieved a 13.45%, as compared to its peers 35.04%. By approving its margins this will help increase FL's Return on Equity.
The balance sheet is somewhat of a bright spot for FL. Its current ratio remains strong at 3.8 in its MRQ, as compared to FL's peers at 2.0. Another strong spot is FL's quick ratio, as that stands at 1.8 compared to FL's peers' 1.1 in the MRQ. FL's debt to equity remains in good condition.
Another area that is a concern is FL's management of inventory.
| | | | | | |
| --- | --- | --- | --- | --- | --- |
| Inventory Turnover | | Q1 | Q2 | Q3 | Q4 |
| | Revenue | $1452 | $1275 | $1394 | $1502 |
| | Inventory | $1159 | $1269 | $1204 | $1069 |
| | Total | 1.25 | 1.00 | 1.16 | 1.41 |
The change in consumer appetites in fashion change as quickly as Apple (NASDAQ:AAPL) rolls out the greatest next invention (upgrade). The point being is that fashion changes constantly and Foot Locker should do its best in the future in managing its inventory. This is a concern, but luckily FL has a strong balance sheet to maintain the high amount of inventory that it has sitting there, this will allow the company to weather any downturn that it may face on a short run basis.
Should we then add or sell Foot Locker?
The stock has had a strong run-up for the past 12 months, as it has increased 60.79% as compared to the S&P 500 at 7.12%. The stock currently is sitting at 17.21X P/E, and at this current price it is sitting at 12.54X for the forward P/E. If you compare this to FL's peers at 18.7X P/E, Foot Locker remains reasonably priced and cheap at this current level.
Another thing that is promising for Foot Locker is its earnings growth; FL has outpaced its peers in earnings growth at an astonishing rate of 66.95% growth, as compared to FL peers at 30.25% this past year.
This upcoming quarter analysts believe that FL should be earning $0.73 per share, and if FL is able to achieve that result, it will blow it out of the park as it will have increased its earnings by 87%. Disclaimer: Foot Locker is on a repurchase program for the next couple of years.
The takeaways:
Although investors may have missed the upside of share price increase, Foot Locker is modestly priced at this current level. We can see the stock increase to around $38 by the end of the year, as long there is no global slowdown.

Foot Locker should focus on increasing its margins throughout the year, and work on its inventory turnover. This will help the bottom line in the long run.

Foot Locker has a modest yield: 2.33%. This is a plus for growth & income investors.
It is of this author's opinion that Foot Locker should be added to your portfolio. There is a lot of promise in this stock, as long as it doesn't face the global headwinds of an economic slowdown.
Disclosure: I have no positions in any stocks mentioned, and no plans to initiate any positions within the next 72 hours.