Our principal message in this post is that bond allocations should be reduced in light of an inevitable rise in interest rates, and signs that the inflection point in rates is at hand or nearby.
Thirty years of dogma have put bonds in a key portfolio stabilizing role. Falling rates have provided a long-term tailwind for bond returns. At current low rates, the prospect of consistent headwinds, or at least not much more tailwind is evident.
We have not owned Treasuries for a long-time. We have reduced our investment grade bonds somewhat in favor of high yield bonds, and our low yielding domestic bonds somewhat in favor of higher yielding emerging market bonds in recent weeks. Our overall bond exposure is lower than it would have been a few years ago.
Before looking at some key bond charts, let's take a quick survey of some recent comments by prominent voices in the markets:
Goldman Sachs
"The Long Good Buy; the Case for Equities ... The prospects for future returns in equities relative to bonds are as good as they have been in a generation."

UBS
"The bear market in bonds is here ... The secular bear market in bonds has begun."

The source of the sell-off is clear-an improved and more durable global economic recovery, particularly in the US. ... the sell-off will be sporadic, not a straight line. ... But barring an unexpected slowdown in the US or abroad, or an oil supply shock, we believe the trend toward higher yields in the months, quarters and years ahead is established. [QVM note: important caveat here about events possibly turning the tables]
The obvious investment implication is to reduce duration exposure in fixed income allocations, including to investment-grade corporate credit. Some might think rising bond yields are a risk for global equities. They are probably wrong.

We reduce our duration exposure by cutting investment-grade credit to underweight and emerging market hard currency bond allocations to neutral We re-allocate to shorter duration high-yield corporate and emerging market local currency bonds."

JP Morgan
"Stay overweight risky assets as declining tail risks in Europe should continue to outweigh headwinds such as the Middle East. ... Stay underweight duration. ... Stay overweight risky assets as declining tail risks in Europe should continue to outweigh headwinds such as the Middle East. Stay underweight duration. ... Our overall portfolio strategy remains long risky assets against safer ones."

PIMCO
"Successful investing in a deleveraging, low interest rate environment will require defensive in addition to offensive skills. ... The emphasis these days should be on the defensive .... Leveraging has turned into deleveraging. 15% yields have turned into 0% money.

PIMCO Offensive Strategy 1981 - 2011
Recognize downward trend in interest rates and scale duration accordingly. ... Emphasize income and capital gains. PIMCO Total Return Strategy. ... Utilize prudent derivative structures that benefit from systemic leveraging - financial futures, swaps (but no subprimes!)


PIMCO Defensive Strategy 2012 - ?
Recognize zero bound limits and systemic debt risk in global financial markets. ... Accept financial repression but avoid its impact when and where possible. ... Emphasize income we believe to be relatively reliable/safe. ... De-emphasize derivative structures that are fully valued and potentially volatile. ... Seek consistent alpha with admittedly lower nominal returns than historical industry examples. "

GMO
"Whilst we at GMO fret over evidence of the strained nature of profit margins, the ever bullish Wall Street analysts expect profit margins to continue to rise! In our search for evidence of a structural break, this simple-minded extrapolation gives us some comfort because the Wall Street consensus has a pretty good record of being completely and utterly wrong."
U.S. Treasury Yield Curve: Past and Present: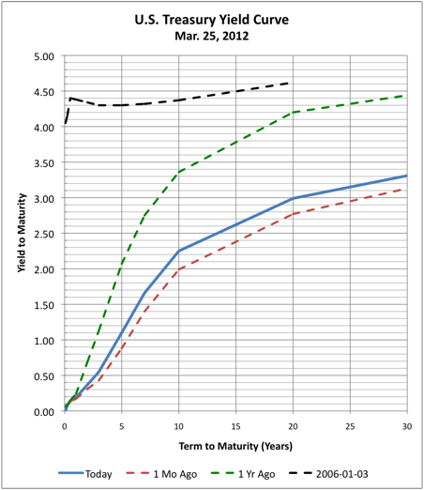 Short-term and intermediate-term bonds have nowhere to go but up. Short-term bonds are at the "zero bound" and the financial repression of the elderly bank saver population has reached monstrous proportions.
Virtually no Treasuries offer real after-tax returns to currently or eventually taxable investors.
Tax-exempt organizations and tax-withholding-free foreign Treasury buyers have little or no inflation protection in the rates.
Treasuries have no good role for retail investors other than hiding in fear of the future, or short-term trading and speculation.
10-Yr and 2-Yr Treasury Bond Rate Long-Term History: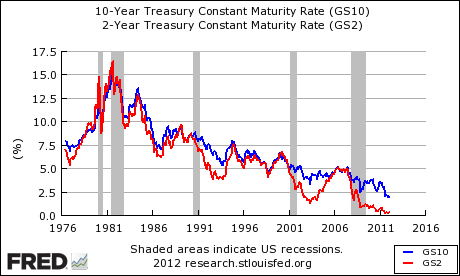 Yield and Duration of Key Bond Proxies:
| | | | |
| --- | --- | --- | --- |
| CATEGORY | SYMBOL | SEC YLD | DURATION |
| 1-3 Yr Treas | SHY | 0.20 | 1.9 |
| 7-10 Yr Treas | IEF | 1.73 | 7.5 |
| 20+ Yr Treas | TLT | 3.17 | 28.0 |
| Inv. Grade Corp. | LQD | 3.49 | 7.4 |
| Junk | HYG | 6.45 | 4.2 |
| Municipal | MUB | 2.05 | 6.6 |
The basic rule of thumb for bond prices in terms of duration and yield changes is that for each 1% change in the rate on Treasuries of comparable duration, a bond is expected to change price by the yield change times the duration (example: an 8 year duration bond would be expected to decline by about 8% if rates rose 1%).
With a fund like IEF, having a 7.5 year duration, and a 1.73% yield, a rise in 10-year Treasuries (which have a shorter duration than 10-years), would push the price of the fund down substantially farther than the yield.
There is money and maturities flowing through a bond fund, and not all bonds in the fund have the same maturity and duration; and rates generally don't pop up by a percent overnight, but the risk is clear, as the following charts illustrate.
In each chart, one of the bonds in the table above is plotted in red for it 1-year percentage price change versus the 1-year yield change of a selected Treasury bond.
$UST2Y is the 2-year Treasury rate.
$UST10Y is the 10-year Treasury rate.
$UST30Y is the 30-year Treasury rate.
In each case the actual fund price response to specific rate changes is visible. Losses on TLT, for example, are already large.
Treasury prices move inversely to rates. Credit bonds are influenced by more factors and move less predictably versus rates.
Muni bonds have reacted more than investment grade corporates to recent rate rises in the 10-year Treasury. High yield bonds have suffered far less, presumably because rising rates are due to increased optimism about the economy, which in term reduces credit risk associated with high yield bonds.
2-Yr Treasury Yield vs. SHY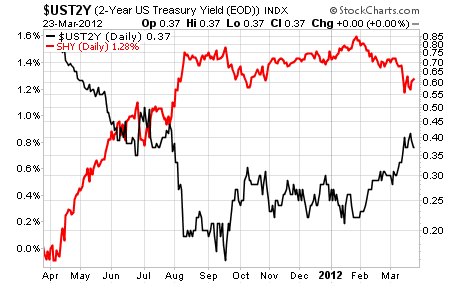 10-Yr Treasury Yield vs. IEF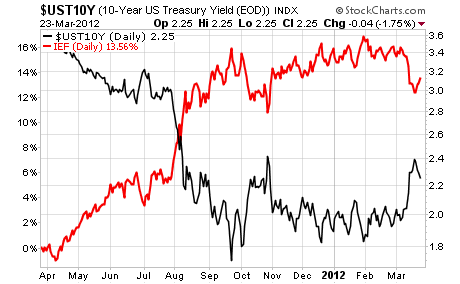 30-Yr Treasury Yield vs. TLT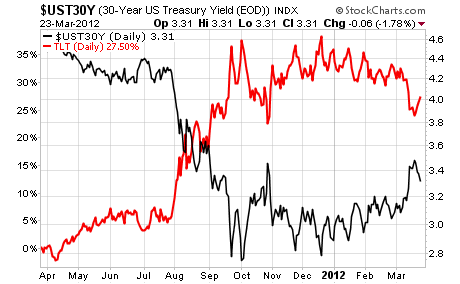 10-Yr Treasury Yield vs. LQD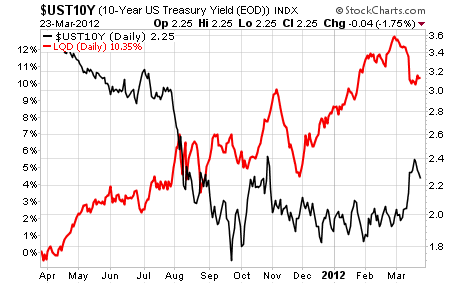 10-Yr Treasury Yield vs. HYG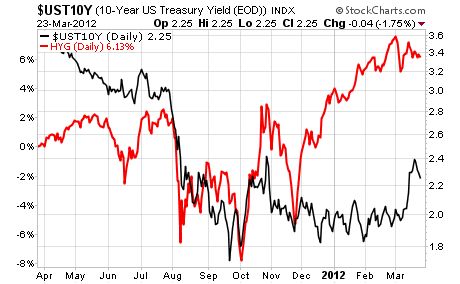 10-Yr Treasury Yield vs. MUB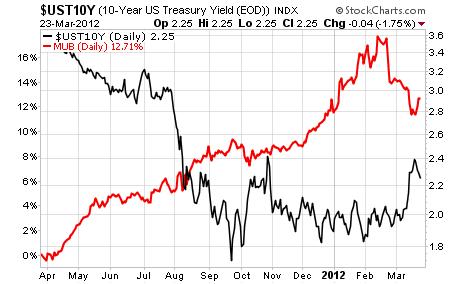 Dividends Not a Bond Alternative, But an Interesting Category:
While we are strongly dividend biased in our stock selections, in great part due to our clients' demographic status, we do acknowledged that they are not bond alternatives. They are far more volatile, but on the other hand, their income grows.
Among equities, we favor the bird in hand over two in the bush for clients who have completed their lifetime savings, and are now relying on portfolios to support lifestyle.
That's one reason we publish our monthly dividend investing newsletter, Rational Risk Equity Income Investor.
BlackRock published about dividends versus bond just recently. This is what they said:

"The Case for Dividends ... Many companies that pay dividends are currently delivering twice the yields of benchmark government bonds. And, dividend growth has historically outpaced inflation-providing a source of real income and the potential for capital growth-because dividend payers are typically strong companies ... dividend paying stocks offer yield growth opportunities."
We made a similar point in a recent post about how long-term, dividends account for a very large part of total return, when the effect of their reinvestment is taken into consideration.
Disclosure: QVM has no positions in any mentioned security as of the creation date of this article (March 25, 2012).
Disclaimer: This article provides opinions and information, but does not contain recommendations or personal investment advice to any specific person for any particular purpose. Do your own research or obtain suitable personal advice. You are responsible for your own investment decisions. This article is presented subject to our full disclaimer found on the QVM site available here.