Despite an improving outlook for KB Home (NYSE:KBH), the stock sold off post-earnings on Friday. KBH dropped 8.5% for the day after dropping as much as 15.0% and after closing the entire loss for the day at one point. Interestingly, the trading action took KBH below its 50-day moving average (DMA) and kept the stock directly under its long-term, multi-year downtrend (shown in my previous post "Bears Load Up Ahead of Earnings for KB Home").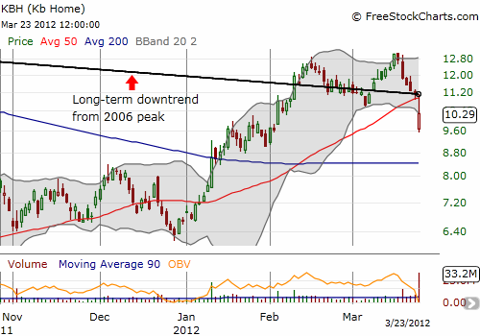 click to enlarge
KBH drops post-earnings from long-term downtrend and 50-day moving average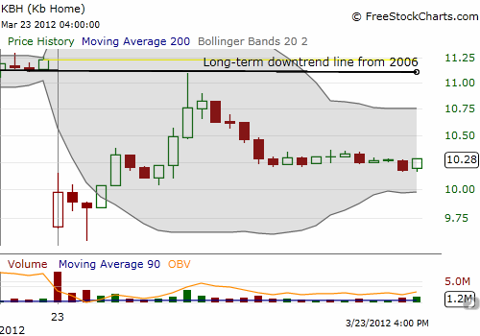 KBH closes the entire post-earnings gap before settling down for a loss on the day
The lift from the lows occurred as the earnings conference call revealed that headlines about an 8% year-over-year decline in net orders (105 homes) masked very encouraging results and an outlook that continues to improve. I responded to the KBH earnings by closing out the short side of the call spread and holding shares that I established as a play on earnings. I did not sell the puts as originally planned given the extremely wide range of trading. These puts may eventually form the basis of rebuilding a longer-term position in KBH.
For those interested in playing what I still think will be a housing bottom in 2013, KBH has still not dropped low enough for me to recommend scaling into shares. I think that point is between $7.50 to $8.00 per share. Note that insiders loaded up on $128,000 worth of shares in mid-August for $6.04 to $7.60 per share. More aggressive investors should certainly start scaling in on this dip just in case this is as cheap as things get for a while.
My continued longer-term optimism on KBH is based on reviewing the transcript of the earnings conference call (from Seeking Alpha) on top of all the other catalysts I have discussed in previous posts. I definitely appreciated management's sober assessment of the market that aligns with my own:
There's a great deal of media hype about the housing recovery taking off like a rocket. There's no question that things are better, but we continue to maintain that it will take some time for markets to fully recover…

…The overall housing market is better. However, it is definitely a localized recovery and don't expect it to be a broad-based rocket ship trajectory, as it will take some time for overall markets to normalize.
Here are the other items from the earnings conference call, including the Q&A, that caught my interest:
President and CEO Jeffrey T. Mezger knew that the decline in net orders would cause angst and was ready with a detailed explanation and several reassurances about the health of the housing recovery:
We…believe the overall housing market is improving and is stronger today than a year ago. As inventories continue to ease and prices in many markets have now stabilized, we feel that a modest recovery in housing has indeed begun in many markets across the country. Our traffic levels are up…We do not believe that our net order results are reflective of current market conditions, and I also do not want them to cloud the underlying improvements in our business…
Mezger went on to explain that three key factors contributed to the decline in net orders:
The cancellation rate temporarily surged as various mortgage companies under-performed. Moreover, their primary lender, Metlife, exited the retail mortgage business in early January.
Improved conditions in the housing market encouraged KBH to increase prices on many of the homes in its standing inventory. This slowed the clearing of unsold homes, but they are getting sold now at higher margins.
The strategic shift out of markets in South Carolina, Charlotte, and Arizona impacted year-over-year comps.
Despite the year-over-year decline, KBH's annual performance tops the industry according to management:
"…using the most recent 12-month public results released by our peer group, KB Home ranked #1 among all peers in net order growth, up a total of 582 units. For us, this unit increase represents a 10% order growth over the prior 12-month period."
Regardless, the first point on mortgage lenders intrigued me the most. Metlife (NYSE:MET) was KBH's primary lender. On January 10, 2012 MET announced its exit from from the forward mortgage business. As a part of that announcement, MET included a reminder that in December, 2011, GE Capital Financial, Inc. acquired in all of MetLife's depository business. In other words, MetLife is making efforts to exit the retail banking business. Its strategic decision is not specifically related to KBH. On March 13th, MET's commentary in the wake of failing the Federal Reserve's financial stress test reiterated/reconfirmed its intent to exit the banking business:
MetLife continues on track with its plan to cease being a bank holding company by the end of the second quarter of 2012. In addition to winding down the forward mortgage business of MetLife Bank, the company previously reached agreements to sell its depository and warehouse finance businesses.

MetLife emerged from the 2008-2009 financial crisis in a position of strength, and was the only one of the top 19 bank holding companies that did not participate in the government's Troubled Asset Relief Program. Today, we continue to demonstrate significant financial strength...

While MetLife's business activities are predominantly in the insurance sector, by virtue of its ownership of MetLife Bank, it is a bank holding company. As one of the largest 19 bank holding companies by assets, MetLife was required to participate in the 2012 CCAR, and as a bank holding company with more than $50 billion in assets, it also was required to submit its capital plan to the Federal Reserve for review.
KBH now works with Nationstar Mortgage (NYSE:NSM) as its preferred mortgage provider. NSM has a portfolio worth approximately $107B with 645,000 customers. KBH will also form a strategic alliance with NSM that it expects to increase the predictability of the closing process for homebuyers. The transition to NSM should complete by the end of the second quarter. Until then, KBH expects lower conversions rates on its backlog to persist. KBH maintains that it has scrubbed through its backlog and believes the worst of the hit to conversions is behind it.
Housing gross margin also declined from 13.4% to 12.3% year-over-year mainly due to the closeout of one of KBH's most successful housing developments that was located in Redwood Shores, south of San Francisco. (For some context, see "From Silicon Valley To Florida - 2 Extremes In A Recovering Housing Market."). KBH recorded margins at Redwood Shores around double its average with sales prices about $800,000.
Looking beyond net orders and gross margins, KBH's first quarter demonstrated continued improvement in the company's performance:
…we are definitely getting better as a company. We significantly reduced our net loss in the first quarter compared to the prior year. Our deliveries were up 21%, and revenues were up 29%…our backlog was still up 30% at the end of the quarter…

…we can reaffirm that we expect as much as a 500-basis-point improvement in our operating margin for the year." (This improvement will largely come through leverage on SG&A).
KBH is transitioning to sub-markets with constrained land supply to improve profitability. As a result, average selling price increased 6% year-over-year and should exceed $240,000 for 2012. About 65% of KBH's deliveries were to first-time buyers and many of them are selecting larger homes than they were in the previous year. Fifty percent of KBH's current business is in California where the coastal areas are strong and inland areas are softer.
KBH has land teams in California with 20 years of experience that provide them a unique competitive advantage in acquiring and closing land deals with reasonable municipal costs. KBH is now able to generate cash from new land deals within 12 months of closing. This is a contrast to Washington D.C., another land-constrained market, where KBH is a recent entrant and is not the builder of choice when "land comes to market." KBH's business in Texas is up 35% year-over-year and up in all four major cities. KBH is planning to be cash neutral by year-end.
KBH claims that its various marketing campaigns are generating success. KB Home is establishing positive visibility from an on-going promotion with the Ellen DeGeneres Show (a sweepstakes runs through April 23) to buzz on its Facebook (NASDAQ:FB) page to becoming the first and only homebuilder to receive the EPA's ENERGY STAR Sustained Excellence Award (2012) as it promotes the cost savings available in its energy efficient homes.
Overall, KB Home appears to still have positive business momentum. It should greatly benefit from a bottom in housing in 2013.
For some final context on the market's sentiment toward homebuilders, the monthly chart for the SPDR S&P Homebuilders ETF (NYSEARCA:XHB) demonstrates that the latest "recovery run" remains strong and steeper than ever. I maintain that dips from these levels should be bought as momentum builds toward an eventual bottom in the housing market.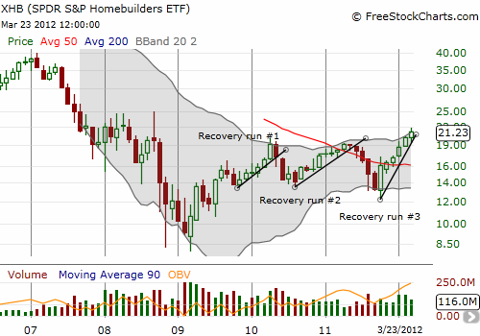 XHB continues to build toward a lasting bottom
Source for charts: FreeStockCharts.com
Be careful out there!
Disclosure: I am long KBH.
Additional disclosure: I am also long calls and puts in KBH