Precious metals bounced back late in the week after what was shaping up to be another dismal stretch for investors, gold turning in its biggest one-day gain in nearly a month on Friday while the silver price surged nearly two percent. But only the yellow metal ended the week higher than where it began as investor interest in this sector remains lukewarm at best, recent developments related to rising import duties in India doing little to bolster near-term demand.
For the week, the gold price rose almost three dollars, from $1,660.10 an ounce to $1,662.80, and silver dipped 1.0 percent, from $32.56 an ounce to $32.24. Gold is now up 6.1 percent for the year, but down 13.6 percent from its high last year, and the silver price has gained 15.7 percent so far in 2012, now down 34.9 percent from its peak of 11 months ago.
Fading hopes of more Federal Reserve money printing amid generally improving economic conditions in the U.S. and receding fears about the European sovereign debt crisis continue to be cited as the main reasons why demand for precious metals has been weak this month. Recent "bully pulpit" work on the subject by the likes of Warren Buffett and Fed Chief Ben Bernanke have no doubt contributed to declining interest in gold and silver in the West.
After an early-year surge, physical demand in the U.S. in coin and bar form has plunged, the U.S. Mint reporting that American Eagle coin sales fell to nearly a four-year low in February, down 70 percent from a year ago, as open interest in gold futures contracts dropped to its lowest level since late-2009.
Weak-handed speculators in paper markets have been flushed out of their positions in vicious sell-offs over the last month with technical factors deteriorating rapidly in recent weeks and hedge fund managers are said to be exiting their positions in gold and silver now that the next round of "quantitative easing" in the U.S. has been delayed or canceled.
As noted here last week, there are many reasons to be optimistic about the long-term, but there may be more downside ahead over the short-term as there are no catalysts for higher prices directly ahead. Of course, catalysts tend to appear from out of nowhere, so, the dismal mood in metals markets today could change quite suddenly.
One positive sign in recent weeks has been that holdings by the many exchange traded funds around the world have been stable at near the record high reached last Tuesday of over 2,400 tonnes, more than any central bank aside from the U.S. or Germany.
There have been outflows in recent days, such as Thursday's decline of 7.6 tonnes from the SPDR Gold Shares ETF (GLD) as shown below via the SPDR website, but the fact that ETF holdings have been steady while the gold price has tumbled nearly $300 an ounce from its 2011 high is a clear sign that these shares are being held by "strong hands".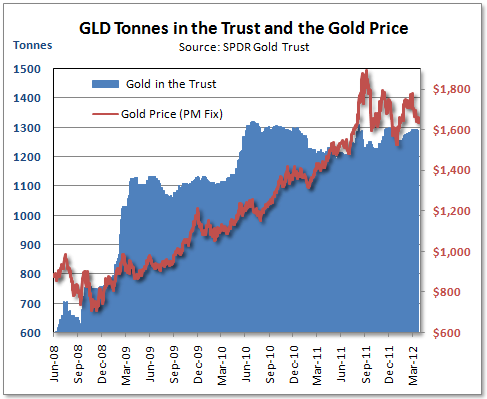 Moreover, when considering that there have been large gold sales by hedge funds over the last year (e.g., John Paulson, George Soros), this also means that other buyers are stepping in to keep GLD demand relatively stable.
Last week's outflow from GLD was the biggest one-day decline since December, so that's something that bears close watching.
Central bank buying, primarily in Asia, is likely providing the strongest support to the gold price at the moment as emerging market nations continue to quietly accumulate the metal on price weakness, either from domestic suppliers, on the open market, or via the Bank of International Settlements (the central bankers' bank) that reportedly purchased 4-6 tonnes of gold a week ago for member banks.
In recent years, central banks in aggregate have changed from net sellers of 400-500 tonnes per year to net buyers of about the same amount and this trend is likely to continue so long as money printing in developed economies continues. For an illuminating take on how central bank gold holdings around the world have changed over the years, see this item at voxeu - Central banks and gold puzzles.
But developments in India - the world's largest consumer of gold - now weigh on precious metals markets as, last week, jewelers went on strike by closing up their shops in protest of the doubling of gold import duties by the Indian government. The strike continued for an eighth day on Saturday and was estimated to have cost the industry hundreds of millions of dollars in lost sales as nearly half of the nation's 300,000+ jewelers, mostly family-run businesses, joined the protest.
Late in the week, the government reduced the gold tariff slightly, but jewelers were not appeased as gold from neighboring Thailand began pouring into the country since, due to free trade agreements, this gold is subject to only a one percent duty versus the new 4 percent duty. The three percent difference is roughly $50 an ounce - not an insignificant amount of money - and now other nations are said to be selling gold to Thailand that can then be exported to India.
Recall that the import duty hike was aimed at closing part of India's budget and trade deficit and the government is also keen on encouraging its people to invest in "more productive" assets, a term used by Indian Finance Secretary R.S. Gujral in a speech last week.
It should be interesting to see how this plays out as Indians have a long cultural affinity for gold and, as a result, are not likely to be easily swayed, especially at a time of turmoil for global financial markets in a world full of increasingly shaky paper money.
Additional disclosure: I also own gold and silver coins and bars