Recently, I initiated a position in TRW Automotive Holdings Corp. (NYSE:TRW) common shares. The stock appears to be undervalued, in the right industry, and has a good micro / macro storyline.
TRW Automotive Holding Corp. (One Year Price and Volume)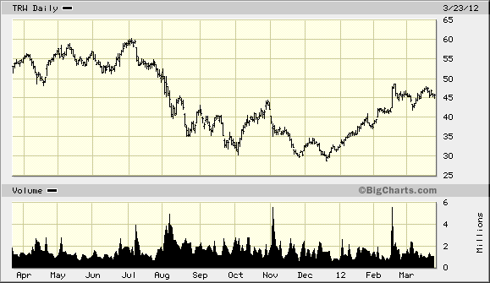 Let's walk through my investment thesis, fundamentals, and valuation methodology.
Investment Thesis
TRW is an undervalued stock within the Auto Components industry. This industry has better forward prospects than has been recognized by some investors. The company has a good balance sheet and solid cash flow. Management has communicated a straightforward business plan that incorporates plausible macro economic trends combined with specific objectives for the company.
What the Company Does
TRW Automotive is a supplier of automotive systems, modules and components to global automotive original equipment manufacturers (OEMs) and related aftermarkets. Company operations encompass the design, manufacture and sale of active and passive safety related products. Active safety related products refer to braking and steering. Passive safety related products refer to airbags, seat belts and safety electronics (electronic control units and crash and occupant weight sensors).
Sector: Consumer Discretionary
Industry: Auto Components
The Fundamentals
Over the past several years, TRW management has transformed the balance sheet. The result is a sound financial base. The Debt-to-Equity ratio is 61 percent, a reasonable figure for an industrial company. Long-term debt has been halved from $2.8 billion in 2008 to $1.4 billion as of December 31, 2011. The current ratio of 1.2 provides solid short-term liquidity.
Cash and short-term investments have risen from $455 million during the 2009 trough to $1.12 billion as of the end of last year. This equates to $9 per share in cash. The share count has remained fairly steady over the past three years.
The Return-on-Equity and Return-on-Asset ratios are 43 and 11 percent, respectively. These are very good figures on an absolute basis. They also represent returns at the 87 and 88th percentiles within TRW Automotive's specific Auto Component industry group.
The company has some unique tax circumstances. Last year, a net tax credit skewed EPS figures to the upside. Going forward, the company does not expect to pay cash income taxes for many years as NOLs (net operating losses) are harvested. Therefore, I found it worthwhile to review TRW's historic annual Net Income versus Net Income Before Tax (NIBT) and Operating Cash Flow (OCF) to gain a better operating perspective.
The chart below indicates that the tax accounting has not tarnished the recent uplift in earnings or cash flow.
TRW Earnings and Cash Flow 2008-11 (in $ millions)
| | | | |
| --- | --- | --- | --- |
| | NI After Tax | NI Before Tax | Operating Cash Flow |
| 2011 | 1195 | 1148 | 1120 |
| 2010 | 875 | 1041 | 1052 |
| 2009 | 73 | 140 | 455 |
| 2008 | -764 | -638 | 773 |
Furthermore, the 2-year ratios of capital expended to cash flow has been 51 and 28 percent. A figure of 50 percent or less indicates management's attention to balancing business investment with improving the financial statements.
Free Cash Flow (Operating Cash less Capital Expenditures) was $4.42 per share last year.
I was equally impressed with TRW's recent performance when computing two fundamental measures I like to check: EBIT / EV (Earnings Before Interest and Taxes) / (Enterprise Value) and ROCE (Return on Capital Employed). My test screens for companies exceeding 10 percent for each count. These figures both clocked in at 20 percent.
Earnings per share have been distorted by the tax accounting. The 2011 EPS of $7.42 was artificially high. Nonetheless, the Street consensus EPS figures going forward show business growth-- estimates for 2012 and 2013 are $5.90 and $6.53. I believe these figures will be eclipsed. Please see the valuation analysis below.
TRW does not currently pay a dividend on its shares.
Valuation
I found the case for undervaluation compelling, revolving around several themes.
First, the P / E and P / Cash Flow multiples are very low. TRW stock now trades at a P / E of 5.2X. The five-year historic multiple is 11.3X. This compares with an Auto Components industry average of 13.6X. The P / CF multiple of 3.6X is remarkably low versus an industry median of 7X. A quick check found that the Price-to-Book ratio is only about 2X.
Second, I could not reconcile these low multiple valuations with past or projected business growth.
On a micro level, EPS has grown quickly, culminating in records for revenues and earnings in 2011. Company management has forecast record revenues again in 2012. Forward EPS will decline due to tax disposition, but continue to rise into 2013 and 2014. What's more, there is a significant disconnect between what management believes can be accomplished versus the Street. As noted earlier, Street analysts project 2012 and 2013 EPS of $5.90 and $6.53. However, listening to the most recent TRW earnings conference call, management provided enough color to piece together a valuation model that looks more like $6.25 this year. YE 2013 would be better. I took particular note of the fact that TRW Automotive management has beat the Street estimates in 12 of the last 13 quarters.
Placing a modest P / E of 10X on the Street EPS provides a $59 stock. Using my figures and the same multiple, I believe $62 is well within range. Using today's (Friday 3/23/12) price of about $46, this offers a 2012 target upside of 34 percent. Note that the Street forecasts 11 percent EPS growth into 2013. Even the analysts are not suggesting that TRW is a "no growth" stock.
The macro story rounded out my case. As part of the earnings buildup, TRW management forecast 2012 North America vehicle sales of 13.9 million units. The SAAR (Seasonally Adjusted Annual Rate) for auto sales has been 14.2 million in January, 15.1 million in February, and a projected 14.1 million in March. For comparison, the 10-year average SAAR ending in 2007 was 17 million units.
My view is that 1) TRW underestimated 2012 new vehicle sales in the forecast, and 2) even a relatively robust 2012 still demonstrates new auto sales are on low ebb. North American consumers have been postponing new car purchases. Someday the pent-up demand will catch up, further bolstering the long case for TRW Automotive.
Company management also laid out a reasonable scenario for the overseas markets (which are a considerable part of the business). European auto sales were forecast to decline 8 percent in 2012, but this figure is partially offset with recent initiatives to grow market share in China and Brazil. Hearkening back to management's ability to "beat the Street," I suggest they can do it.
Lastly, the bulk of of TRW's revenue comes via what can be characterized as auto "safety equipment"-- steering, braking and passenger restraint systems. My thesis is that these components will not be rolled back. Such systems will see continued development. Such items will be accretive to new vehicle manufacturing, either by public demand or regulatory requirement. This plays to this specific company directly, as it is a world leader in this category.
The Bottom Line
TRW Automotive Holdings Corp. represents a potential undervalued stock in a positive industry (Auto Components, "the right neighborhood"). Risks include a global business contraction-- if one subscribes that we are on the precipice of another wave of recession, the Consumer Discretionary sector will get hammered. Furthermore, TRW offers no dividend. Therefore, the investor has no "yield support." This is somewhat mitigated by a sound balance sheet and debt management. TRW also faces notable EU anti-trust litigation.
However, I suggest that these risks are overshadowed by TRW management's demonstrated ability to over-achieve, the company's ability to spin off cash, and the thesis that, on balance, the worldwide demand for automobiles will recover in the years ahead. If the company can make good on earnings, the P / E multiples will expand nearer to historic and industry multiples, providing patient investors a sound investment.
This analysis is my own. Please research carefully before making any investment decisions.
Disclosure: I am long TRW.