Trying to get a grip on Ford (NYSE:F) as a potential investment is like flipping a coin. One piece of information is positive and the next points towards less than positive results. So let us list some pros and cons and try to come to a conclusion.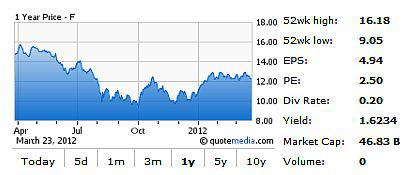 Positives for Ford:
Vehicle sales in the U.S. are rebounding from the recession slowdown. In the decade prior to 2008, annual new car sales in the U.S. stayed in a range of 16 million to 17 million. In 2009, only 10.4 million new cars were sold. In 2010 and 2011, the sale number increased by about one million each year -- 12.4 million sold in 2011. To get back to 16 million indicates strong sales growth for the next three to four years. Ford reported sales growth of 7% in January and and 14% in February this year.
Ford did not need a government bailout to make it through the recession. This fact shows management has better control of the company's finances and makes Ford a sentimental favorite to many.
Ford has done a good job of developing new vehicles with high buyer interest. The Focus, Escape and V-6 powered F-150 have powered sales growth for the company.
Negatives for Ford:
Almost every article you read touts Ford as a no-brainer stock to buy. When has that worked, except for Apple (NASDAQ:AAPL)?
When it comes down to actually calculating profits, Ford has not been able to hit the Wall Street estimates. From the last four quarter's earnings reports, Ford has missed the consensus estimate every time by an average of 17%. Missing the estimate usually results in the shares trading lower. Then the analysts start to lower their future estimates, also a negative for the stock value.
The hot fuel-efficient cars which Ford customers are buying are a lot less profitable than the good old days of selling Lincoln Navigators and F350 pickups with big Diesel engines, earning $10,000 in profit on each vehicle sold. Ford may end up selling a lot of cars in 2012 and not making much money from all of those sales.
The Final Forecast:
Ford will not be a market-beating investment in 2012. The current Wall Street consensus for full-year, adjusted earnings per share is below the 2011 results. High gasoline prices will allow Ford to sell all the Focuses it can build, but there will not be a lot of profit from selling the smaller cars.
The universal belief that Ford stock is a winner is also a contrarian indicator. Too much positive pushing of this stock. If the overall market has a positive year, shares of Ford will do OK. Ford becomes a lot more interesting as an investment if the share price drops below $10.
Disclosure: I have no positions in any stocks mentioned, and no plans to initiate any positions within the next 72 hours.