According to ETF Channel, Best Buy (NYSE:BBY) is the second largest holding of the SPDR S&P Retail ETF (NYSEARCA:XRT). Yet, BBY is greatly underperforming this retail ETF. While XRT is at all-time highs and long-ago recovered all its post-recession losses, Best Buy continues to cling to tenuous support from its 2009 intra-day lows.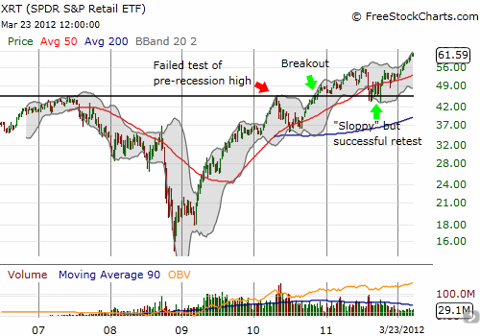 click to enlarge
XRT left the recession behind a long time ago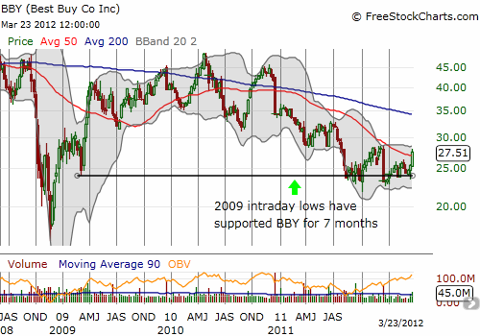 Best Buy clutches support from 2009 lows
Source: FreeStockCharts.com
When I tweeted on March 15th that Best Buy was "screaming" at me as my next "catch-up" stock (two days before this, the S&P 500 broke out to fresh multi-year highs on strong volume), the stock was on its way to an impressive reversal from two-month lows and a closing gain of 5.4%. I could discern no direct news or catalyst for the move but the stock continued to drive higher for six more trading days on high volume.
After a 10%+ gain, I decided to close out my position on Friday and regroup ahead of Best Buy's earnings March 29th. After reviewing BBY's prospects three main things stuck out to me. First, shares short are at their highest level in at least a year, increasing about 50% in just three months: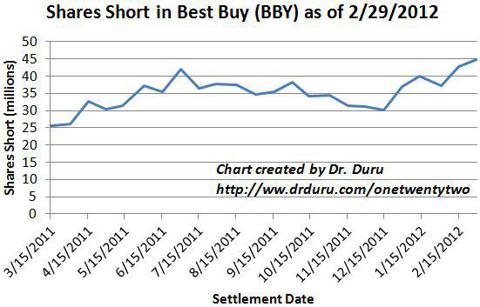 Shorts in Best Buy have soared in recent months
Source: NASDAQ.com short interest
Second, options players have fought the recent price gains by piling into puts. According to Schaeffer's Investment Research, the open interest put/call ratio on BBY is at 1.06, the 93rd percentile for the past year. This ratio was last this high during the August swoon in the stock market. BBY held firm for another six weeks of churn before briefly giving way to new lows in October.
By that time, the put/call ratio had already cooled off by 50%. The renewed interest in bearish positions on BBY has been dramatic: the open interest put/call ratio has jumped from 0.62 on March 16th to 0.96 on the next trading day.
In other words, confident bears are piling on and extremely confident that Best Buy will soon plumb even lower prices.
At the beginning of this year, Larry Downes from Forbes explained why he thinks BBY will eventually go bankrupt, a sentiment surely shared by many. The article is an extensive diatribe that does not pause for air to even consider the possibilities for Best Buy to meet its challenges in the future. On the other hand, I watched CNBC's recent hour-long special "Best Buy: The Big Box Fights Back." It was full of reasons to conclude that Best Buy could still have a future. For example, Best Buy still holds a 20% market share in consumer electronics in the U.S.
This is three times the share Amazon (NASDAQ:AMZN) holds, and BBY has held steady for the past several years. There are apparently plenty of reasons to believe that AMZN's current share is not sustainable (for example, see "Amazon.com (AMZN) is the Secular Short of 2012"). Best Buy's service center, the Geek Squad, is a leading source of revenue and profit growth. The CEO appears fully aware of the company's competitive challenges and is actively working to meet them. I especially love that he is a guy who worked his way up from the sales floor to his current position. He got his position at the depths of the recession and has to maintain his fighting face ever since.
In other words, BBY has tremendous upside if and when it turns sales momentum upward and turns market sentiment around. At a low 7.4 forward P/E, a 0.19 price-to-sales ratio, and a 2.3% dividend yield (compare to 12.1, 0.55, and 2.1% respectively for Target), Best Buy is priced for low expectations.
This leads me to the third thing that caught my interest about Best Buy. Since 2008, Best Buy's first earnings report after Christmas has always produced a positive open. However, traders have also almost always faded BBY's earnings after the open.
Here is a table displaying Best Buy's performance after reporting earnings for the last four years: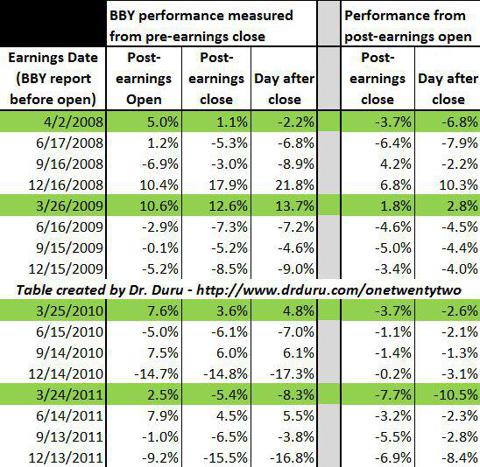 Best Buy's stock performance post-earnings since 2008
Sources: Price data from Yahoo!Finance, Earnings dates from briefing.com
Shown in the green rows, the past four post-Christmas earnings reports have driven BBY's stock higher at the open. Three out of four times, BBY has faded by the close. Over the past 3 cycles, this pop has steadily gone down to the point that during last year's post-Christmas earnings, sellers were able to drive BBY to a negative close that got worse on the next day. Bears must be betting that this negative momentum will continue such that BBY will finally open negatively in response to post-Christmas earnings.
So what has happened when BBY opens after earnings with a gap down? In all but one case (the Sept 18, 2008 earnings), the selling momentum continued into the close. In ALL cases, Best Buy sold down further by the close of the following day. This trading action means that BBY almost always fades in one form or another from its initial post-earnings open. The two biggest exceptions were the two earnings cycles where Best Buy opened up double digits and the buying pressure persisted.
This fascinating history suggests that traders can wait until Best Buy's performance is known at the post-earnings open before initiating a position. Quite simply, short-term traders should fade the open UNLESS Best Buy opens up double digits. Trying to play earnings ahead of time produces a very mixed bag. Over the last four, six, eight, and sixteen quarters, Best Buy has opened with positive gains 50% of the time.
Perhaps one could argue that some unique factors at play this time around support a bullish bias. With bears cramming into the trade while the overall stock market and retail sector are doing so well, there is a greater than usual potential for a tremendous upside surprise. BBY's best post-earnings opens since 2008 occurred during the depths of the last recession. However, the current 10%+ run-up from recent lows may already represent a significant portion of this upside surprise. Absent a pullback before earnings on March 29th, I am content to wait for the outcome of earnings. Aggressive traders can certainly consider purchasing out-of-the-money calls and then prepare to make up for any post-earnings losses by flipping around to fade the stock.
Regardless, unless Best Buy reports something dramatically awful, I will look to re-establish a bullish position on an extended pullback in shares. I still prefer to bet on the longer-term viability of the company.
Be careful out there!
Disclosure: I have no positions in any stocks mentioned, but may initiate a long position in BBY over the next 72 hours.