Below is a chart showing the average year-to-date percentage change for Russell 3,000 stocks in each sector. As shown, the average 2012 change for all Russell 3,000 stocks is currently +13.80%. Four sectors are outperforming the overall average, while six are underperforming.
Consumer Discretionary stocks are doing the best year to date with an average change of +18.12%. Technology stocks rank second at +16.45%, followed by Health Care (15.15%) and Materials (15.13%).
After outperforming in 2011, Utilities continue to perform horribly in 2012. As shown, the average Russell 3,000 Utilities stock is down 3.07% year to date. Consumer Staples are doing the second worst relative to the market with an average 2012 gain of 8.82%. Energy, Industrials, Financials and Telecom are the four other sectors underperforming the average.
Click to enlarge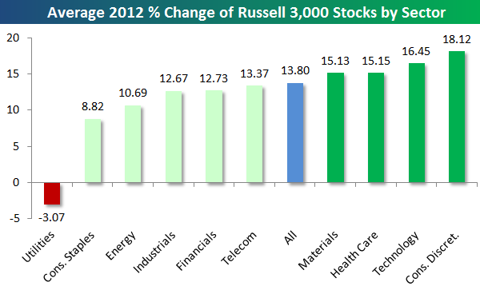 Below is a list of the 50 best performing Russell 3,000 stocks year to date. Of these 50 stocks, 14 are already up more than 100% year to date. One stock - Orexigen Therapeutics (NASDAQ:OREX) - is up more than 200% (203.73%).
Sears Holdings (NASDAQ:SHLD), InvenSense (NYSE:INVN), Bank of America (NYSE:BAC), Netflix (NASDAQ:NFLX), Lions Gate (LGF) and Smith & Wesson (SWHC) are some of the more notable names on the list of 2012 winners.