Rubio's (RUBO) reported 2Q 2007 results on 8/9/07 (See press release and SEC 10-Q.)
Sales up 15.9% to $43 million from $37.2 million in 2Q 2006
SSS up 7.8%
Cost of sales $12.26 million from $10.36 million in 2Q 2006
Transactions down 2.5% and check average up 10.5%
Restaurant operating margin up to 17% from 16.1% in 2Q 2006

Net income up 14.6% to $503K ($0.05 per share) from $439K ($0.05 per share) in 2Q 2006
Profit margin 1.2%
Diluted share count 10,050,000

$6.32 million in cash
No debt

Opened two restaurants in 2Q
Operating 167 restaurants - 163 company-owned, three licensed, and one franchised location
Expecting to open 14-16 restaurants in the remainder of 2007, including one franchised location.
Rubio's just can't seem to bring in an overall healthy quarter. Sales and same-store sales did well, but that's partly because they're going up against a pretty soft comparison with last year. The business is eating up cash, which is not a good sign no matter what way you look at it considering that cash has not really translated into good results. They're relying on increased check averages for sales because of decreasing transactions. In short, the balance sheet is shrinking because the business isn't producing the necessary amount of cash right now. This doesn't mean it won't or can't change, but given Rubio's mediocre track record as it is, I don't take it very lightly. I still believe Rubio's has a good concept, but management simply isn't turning that into consistent, strong results. They just keep lagging and lagging and lagging, the company has barely gotten anywhere.
However, there are some bright spots. Margins are remaining steady with higher costs, so management hasn't been terribly inefficient. Net income did grow, but share dilution ate into the EPS. But again, I think this is an unreasonable comparison because of soft results last year. I don't see this as a sign of business strength, but rather as a sign of slightly better results than they brought in last year. So far this year cash flow production has been pretty miserable, the cash position has started to head south, and transactions are down. I can't help but wonder if Rubio's would do better going the franchise route rather than owning most of their restaurants. I say this because management is not managing restaurants that well right now and never really have, it'd be a lot easier to go the franchise route and expand from there. Some companies do well owning most of their stores (such as Chipotle), some do better with franchisees. I think Rubio's would do much better with franchisees mainly because I think the lack of results thus far have been because of poor management, not a weak brand. I think the Rubio's brand could compete well on a more national scale, but not with the way current management has run the company. There has been some shaking up with management this year, so to be fair I don't think we should judge them too harshly just yet. But, I think Rubio's can do a lot better and I'm not seeing many positive signs from management that they know how to turn this ship around and keep it consistent in the long run.
I'm still interested in the company and think it could have a lot of potential. But, with the stock currently at $10.34, I'd hold off before opening a position. There are better places for your money at this point.
RUBO 1-yr chart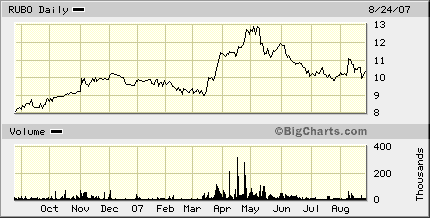 Disclosure: none