With the events of the past 5-6 weeks, Google (NASDAQ:GOOG) has quietly been put on the back burner as far as news and events are concerned. The management of the company must be delighted to see the words "search engine" and "internet marketing share" substituted with sub-prime mortgages, alt-A and credit markets.
Google's stock has also quietly been basing here at the $510-515 level, after having seen its top value at $558 eviscerated by its "so-so" June quarterly results. According to analysts Google missed by a couple of pennies or about 1%. Now, remember Google's management has yet to endorse any quarterly expectations let alone any annual numbers.
I estimate Google will earn $19.75 per share for calendar 2008. I will probably be proven to be quite conservative in that estimate. If the number actually odes top $20, Google is selling at a 26 times price earnings multiple. With its 50% growth rate for both revenues and profits, it's still cheap.
I believe Google will prove this September quarter that all was actually quite okay with "those terrible" June results. Google management has a way of disdaining the short-sellers and I hear from sources this September quarter may prove painful for any one who has the audacity to be short the name.
Google has taken a back seat during this credit market debacle. As one client I coach told me "they have been relegated to the 12th page". Which is probably just fine with Google's management!
GOOG 1-yr chart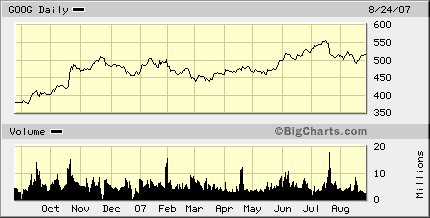 Disclosure: none