When I retired in 2000, my IRA was the foundation of my retirement funds. During the 1980s, IRA's were developed and my company developed their 401k plan to replace the thrift plan. The choices were quite limited in these early 401k plans-company stock or several mutual funds. I had been quite pleased with the performance of Vanguard 500 Index Fund Investor Shares (MUTF:VFINX) and Vanguard Health Care Fund Investor Shares (MUTF:VGHCX) over the past 20 years and hoped they would continue to provide good returns in my retirement. Wouldn't you know it, the tech bubble burst and all stocks and mutual funds went down. I became a dividend growth investor of necessity. Fast Forward 12 years and I still have legacy mutual funds from my working career in my IRA. In the past year, I was able to get my current stock dividend yield up to 4% by buying American Capital Agency Corp (NASDAQ:AGNC) and completing my position in Frontier Communications Corp (NYSE:FTR). Wouldn't you know it, when 2012 started AGNC cut their quarterly dividend from $1.40 per quarter to $1.25 and FTR cut their quarterly dividend from $.1875 to $.10. I'm right back where I was last year, searching for yield.
I looked into the IRA and found legacy mutual funds from my working days, such as Vanguard Health Care Fund Admiral Shares (MUTF:VGHAX). I use SPDR S&P 500 ETF (NYSEARCA:SPY) as my asset allocation model and found that I was grossly overweight in the health care sector. This has provided a source of funds to improve my dividend stock yield and asset allocation simultaneously. The reason I chose to sell some VGHAX was the relatively poor performance since 2000. The total return of 7% per year for the life of the fund was not enough to bring my total portfolio yield up to 4%, which I need to cover my expenses. In addition, the capital gains taxes applied to the mutual fund in my regular non IRA account each year (without any withdrawals) was a drag on my income. Therefore, I reduced my position in VGHAX down to the level of 11% of portfolio to coincide with the SPY allocation.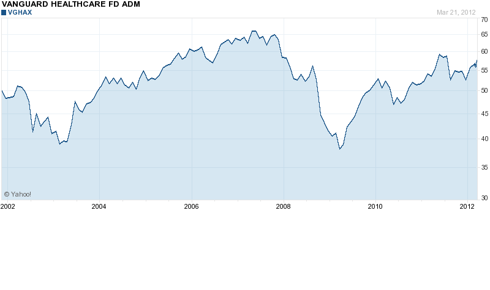 Click to enlarge
(Click to enlarge)
As can be seen from the graph, VGHAX has become cyclical since it's inception. The price I received for the fund was not up to the pre Great Recession levels of 2008, but it wasn't at the -50% level of 2009 either.
I believe we are approaching a major market pullback and I like to go into those at 30% cash in the portfolio, to pick up bargains. As I mentioned in my last article, I will start to increase my portfolio yield by increasing my allocation to AGNC to 2 full positions, or 4% of total portfolio. I have that limit order out already. Other purchases will have to wait for the market pullback. Each investor should evaluate their own condition, taking into account their expenses and sources of income. If one needs increased yield, search the portfolio for non-performing assets.
Disclosure: I am long AGNC, FTR. I hold a position in VGHAX.