There is a value investing bubble. Don't get me wrong, it is great to consider the Graham school of thought. But the advantages of conservative analysis do not excuse the deactivation of one's imagination. With today's zeitgeist favoring conservative stocks regardless of context, the market has turned its attention away from growth and imagination. To exploit this, here are some higher priced stocks relative to "fundamentals", and the context that makes them exceptional, with a concluding paragraph comparing their stories:
1. Lightbridge (NASDAQ:LTBR)
Lightbridge consults nations creating nuclear energy programs. But these revenues exist to fund Lightbridge's investment in intellectual property, so the company is currently reporting negative earnings. Adoption of an invention is expected around 2020, with some buy-ins around 2015, so the stock is currently priced like a call option. The invention promises to nuclear plant operators a modular improvement in nuclear fuel systems with a total cost savings several times the total cost of installation, and also makes nuclear power cleaner and safer. Management includes top specialists from international law, nuclear engineering, and future corporate customers. The target market is in the low billions, and the market cap is in the low tens of millions.
If-- and when-- this inceptuous technology reaches adulthood, the stock should move easily past 9 times its current price.
(LTBR chart, via Google, right-click to enlarge)

2. Tesla (NASDAQ:TSLA)
Tesla is not a Rolls or a Lambo. It's trying to become a $30,000 car. Along the way, it needs to charge customers at a Rover / BMW / Benz level in order to finance its insanely ambitious plan. But it's creating a category for itself (car that's electric), and with oil's geopolitics, this
category is alluring. The market is schizophrenic on this one, with some
analysts loving it but a lot of money shorting it. The CEO warned the shorts that things will get painful later this year. I don't think this is a Netflix (NASDAQ:NFLX) situation-- I think the shorts should listen.
3. Digital Domain Media Group (DDMG)
A recent IPO, and a recently pivoted business model (recent negative earnings as a result), Digital Domain originated from filmmakers' need for a purely digital work-for-hire visual effects company. Specifically, Digital Domain was initiated by James Cameron, maker of Avatar and Titanic. (Info sourced from March presentation).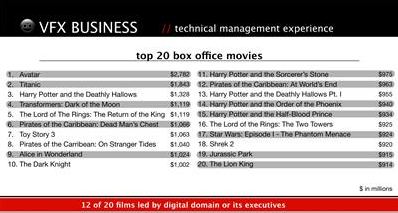 In 2013, Digital Domain will get a piece of revenue from film Ender's Game. This is substantial for two reasons. One, Ender's Game is an A-list movie closely comparable to today's blockbuster Hunger Games, and both movies are distributed by Lions Gate (LGF). Two, Ender's Game is the first project proving Digital Domain's transition from the traditional work-for-hire business model, into the revolutionary granting of equity to it as a co-producer.
New horizontal expansion includes government-funded Bachelors and Masters programs wherein students pay Digital Domain to work for Digital Domain, a pending 100MM grant to bring the digital effects industry to Abu Dhabi, U.S. military contracts for immersive military training simulations (disrupting a cartoonish status quo), similar surgical training simulations, and continued intellectual property leadership, for example the rights to 2D-3D conversion. Digital Domain is stepping up and demanding to be valued as a creator, not just an illustrator. And illustration, because it allows for visualization, has applications beyond entertainment these days. That's why I think it will get a billion-dollar valuation as Ender's Game hits theaters in one year.
4. Google (NASDAQ:GOOG)
Google has a higher P/E than Apple (NASDAQ:AAPL). So buying Google requires a higher quantity of imagination in terms of growth. Traditionally Apple has disrupted from the high end and Google from the low end. I think lower end disruption is more powerful, giving Google more explosive potential, and its higher P/E. But I think Google is more diversified than Apple, and for this reason is a relative bargain. What if Steve Jobs was an irreplaceable resource? What about the devices that come after phones, tablets and televisions? I'm not an Apple bear, but the answers favor Google.
5. Pluristem (NASDAQ:PSTI)
Pluristem develops, licenses, and manufactures stem cell medicine in 3D using afterbirth cells. The treatments are one of few known approaches that may, before 2020, improve the condition of patients suffering a wide array of common diseases. Research and development funding in biotech is cautious now, and this creates buying opportunities. Somewhat early in approvals, Pluristem is still a raffle ticket, but it's a ticket I'm happy to pocket for a deep discount.
Conclusion:
These are the stories of undervalued companies positioned opportunely within shifting economic structures.
Google is at the center of the (expanding) Internet. Lightbridge offers safety and expense improvements to a nuclear industry concerned with danger and cost-intensive new builds. Digital Domain, the leader of its industry, articulates ideas into images, and this articulation is itself expression worthy of a creator's premium-- it's comparable to quants eventually gaining deep respect in finance. Pluristem's stem cell science, without the religious stigma of embryo cells, has potential in a large circle of conditions. And Tesla is changing the way we think about cars, like the original Tesla changed the way we look at electricity.
Yet, at first glance, all of these stocks make many buyers uncomfortable, because these are not stocks one would associate with Buffett. Rather than just discounting for danger, the market is also discounting for unfamiliarity. My suggestion is, consider exploiting the discount. That is the substance of value investing, anyway.
Disclosure: I am long PSTI.
Additional disclosure: I moved out of most stocks to fund a current venture, but intend to enter and exit positions in these companies whenever practical. My articles are for exploratory purposes only, and should not be relied upon to any extent as financial advice-- please manage your own due diligence.