If you're trolling for potential breadwinners, the wireless industry is a good place to explore. On a global basis, smartphones and tablets are in their infancy and you could hit the jackpot by investing in the right companies. Research and consulting firm Maravedis predicts by year 2016, a total of 1.75 billion smartphones will have been activated worldwide.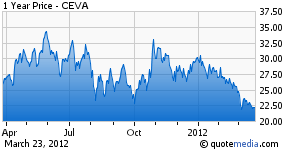 Seeking Alpha contributor Edward Schneider recently reported from the Mobile World Congress a terrific piece that covers some of the up and comers in wireless broadband. If you are looking for investing ideas in this nascent sector, go no further. Hitting the mother load with a big gainer is the objective of most investors, and this is where the action may be for a few years depending on your risk/reward ratio. One small cap wireless pure-play company covered in Mr. Schneider's report is Ceva (NASDAQ:CEVA).
According to a recent posting on TheStreet.com, Ceva is an: "Israeli semiconductor specialist, which has a U.S. headquarters in Mountain View, Calif., licenses specialized processor cores that convert analog information such as voice, video and images into a format that can be used by digital devices. A growing number of these cores feature on baseband chips within 4G handsets. Korean giant Samsung, for example, uses Ceva processor cores for handset chips running on Verizon's (NYSE:VZ) LTE network. Ceva also licenses its 4G technology to Broadcom (BRCM) and Intel (NASDAQ:INTC). In total, the company has announced 15 4G design wins so far."
Ceva is no flash in the pan. As reported in their most recent 10-K: "To date, over three billion CEVA-powered chipsets have been deployed by the world's top cellular handset and consumer electronics brands, including ASUS, Dell (NASDAQ:DELL), Fujitsu (OTCPK:FJTSY), Haier (OTCPK:HRELY), Huawei, Lenovo (OTCPK:LNVGY), LG Electronics (LG), Motorola (NYSE:MMI), Nintendo (OTCPK:NTDOY), Nokia (NYSE:NOK), Panasonic (PC), Philips (PHG.BA), Pioneer (OTCPK:PNCOF), Samsung (OTC:SSNLF), Sharp (OTCPK:SHCAY), Sony (NYSE:SNE), Sony Ericsson, Toshiba (OTCPK:TOSBF) and ZTE (OTCPK:ZTCOY)."
You'll notice this impressive list of handset manufacturers includes just about all the major players except for Apple (NASDAQ:AAPL). This is primarily because Ceva does most of their business outside of North America. In fact, EME (Europe and Middle East) and APAC (Asia Pacific) accounted for 76% of total revenues for 2011. It would be nice to have a company like Apple in the fold, but, on a global basis, it's the Android operating system that commands the largest market share.
However, Apple is not entirely out of the picture. If we go back to the Q3 2011 conference call, Ceva CEO Gideon Wertheizer states: "iPhone 5 is up for grabs. Nobody has the real insight there, but the iPhone 5 if it includes LTE (long tern evolution) or a more advanced solution, I think everybody, and all the baseband players today, have a decent shot with their technologies." This includes Ceva because they are a world class leader in this segment of the semiconductor industry.
This leadership position is illustrated in the more recent Q4 2011 conference call: "Shipment of CEVA-powered baseband units grew 105% year-over-year to 927 million units. Our DSP are now deployed in every meaningful segment of the market, starting with the high volume, low cost GSM feature phone market, going through the 3G advanced smartphone market including the growing China mobile TD-SCDMA market and up to the cutting edge healthy smartphone market. The use of our DSP is also expanding in the mobile broadband segment, including 3G and 4G USB dongles, tablets, and in the machine-to-machine segment in particular smart grid, automotive and surveillance applications."
I wouldn't call Ceva a value proposition, but it is trading at a significant discount to its 52 week high of $35.60/share. It closed on Friday at $22.44, near its 52 week low of $21.69. If we frame it out, courtesy of Yahoo Finance, we can see that current year average analyst earnings estimates are for $1.03/share which gives it a P/E ratio of 22 for fiscal year 2012. Earnings are projected to grow at 21.4% next year and 18.7% for the next five years, so it's not terribly expensive. In fact, Ceva's average annual P/E ratio for 2011 was 36.5.
Besides residing in an explosive growth sector, and, trading at a reasonable valuation, I really like the fact that Ceva has a recent history of blowing out earnings estimates. In the last four quarters, they have beaten the analyst estimates by 15%, 29.4%, 23.8% and 18%. I can't understand why investors have turned a blind eye towards this company, but that's just the fickle nature of Wall Street.
In the beauty contest we call the stock market, Ceva could be big box office in the near future, with or without Apple. If Apple selects Ceva for the iPhone 5, there may be a feeding frenzy in the equity, especially where investor psychology is concerned. Even if Apple isn't a suitor, I think this company has a lot of appreciation potential, and as a result, I've taken a position in it.
Disclosure: I am long CEVA.