Over the last few months the price of Furiex Pharmaceutical (NASDAQ:FURX) has shot up about 50% as drug sales have surged and insiders have purchased millions of shares. (Insider purchases in early march, in mid-march). But there are also other events that could send prices up. The first will be the release of the Q1 sales figures.
Nesina sales in Japan may continue to surge. The second event would be FDA approval of Nesina in the US on April 25, 2012. If Nesina is approved in the US, Furiex could suddenly surge in price because it will receive a $25 million dollar payment, and also up to 12% royalties on future US sales. The third event is the Nesina filing for approval in Europe, which will result in a $10 million payment: European approval will result in another $10 million and up to 8% future royalties. The final event is the start of the US Phase III trials for the drug MuDelta, for Irritable Bowel Syndrome with diarrhea (IBS-d). Furthermore, Furiex might well attract a partner for MuDelta, note that it also has another drug in Phase III trials that will push the stock price higher.
Furiex is a drug development company that has two drugs that are Phase III ready and two drugs already approved. The four drugs are (1.) European approved Priligy (dapoxetine), a drug developed for treatment of premature ejaculation, (2.) the Japanese approved drug Nesina (aligliptin), a new drug for the oral treatment of Type 2 Diabetes, (3.) Flouroquinolone (JNJ-Q2), which is used for the treatment of skin infections and respiratory infections and, finally, (4.) MuDelta Receptor Agonist and Delta Opioid Receptor Antagonist, which is used for the treatment of diarrhea predominant irritable bowel syndrome (IBS-d).
The first drug we need to note is the Nesina (Aligliptin), the Aligliptin/Actros combination, and the Aligliptin/Metformin combination. In trials, Aligliptin was well tolerated for 26 weeks and significantly improved glycemic control in patients with Type 2 Diabetes (T2D), without raising incidence of hypoglycemia. In April 2010 Nesina was approved by the Japan's Ministry of Health. Furiex got this drug developed and now Takeda Pharmaceuticals (OTCPK:TKPHF) has taken over its development and marketing. In the Q4, sales of Nesina in Japan surged 50%, creating $2 million in royalties for Furiex. These sales have surpassed everyone's expectations. The US approval date is April 15, 2012 and everyone is waiting to see if Nesina will be accepted by the US.
The next drugs we need to mention are JNJ-Q2 and MuDelta, because Furiex cannot afford to develop both drugs at once. It was therefore decided in the Q4 conference call to develop MuDelta first, because it was granted fast-track status by the FDA and thus Furiex can develop it quickly, in 2-3 years. It is, after all, a drug development company. MuDelta has been studied with good results in more than 700 patients to date. It is expected that Furiex will start its Phase III trials by mid-2012. Discussions are underway with potential partners.
The final drug needing mention is Priligy (Dapoxetine). This drug is partnered with Janssen-Clay, a division of Johnson & Johnson (NYSE:JNJ). It is an oral drug specifically developed for on-demand treatment of premature ejaculation (PE). The drug is designed to be taken only when needed - one to three hours before sex, not every day, Priligy has been approved in the European Union, in some countries of Asia, and some in Latin America. Although it has been approved in many countries, sales have not taken off yet. Furiex wants to refinance the terms of its partnership with a third party- probably to generate more cash up front.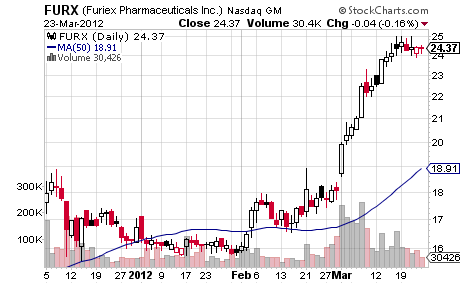 As seen in the above chart, Furiex has rallied 50% from its February lows of $16 a share. The stock ran into resistance at the $25 per share price level, but it may rally with positive news. US FDA acceptance of Nesina in a month's time could be such a postive news item. How high will the FDA approval of Nesina push up the price? At this point investors are speculating on $30-$40 per share. These events and some insider buying will determine the new market price.
Disclosure: I am long FURX.