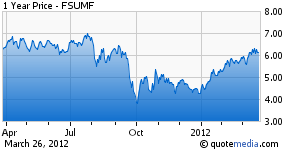 Fortescue Metals Group (FSUMF.PK)
Thesis
FMG is engaging in a debt fueled expansion of its production capacity when its largest customers (steel mills in China) are struggling to stay profitable. I would recommend a short on this stock. Preferably, by buying CDS on FMG's debt. Failing that, buy out of the money put options on FMG's stock.
Overview
Fortescue Metals Group (FMG) is the 3rd largest iron ore producer in Australia. Currently, they produce 55million tons (MT) of iron ore. They want to expand to 155MT by 2013 first, eventually hit 355MT. In order to do so, they have been levering up.
The Debt
On 15 Mar 2012, FMG placed USD 2B in high yield bonds in 2 tranches. The first tranch carries a 6% coupon due in 2017. The second tranch 6.875% coupon due in 2022.
The company estimates that the expansion project will cost USD 8.4b in total. They haven't said how they are going to fund it all. I suspect that most of it will come from debt.
Gross debt has grown from AUD 2,975m in Dec 2010 to AUD 4,462m in Dec 2011. With the new high yield bonds, the debt has grown to AUD 6,374m.
Valuation
FMG is trading at 6.2x Price/Trailing Book and 12.9x trailing PE. On a PB basis, FMG is richly priced. As the next section will show, FMG has a significant earnings risk, which means that the 12.9x trailing PE understates FMG's actual PE. A better measure would be EV/ EBITDA. With the recent increase in debt, FMG's EV/ EBITDA is 8.9x, compared to 8.2x before the USD 2B debt raise.
Demand
The bulk of Fortescue customers are Chinese. According to their 2010 Annual Report, FMG supplies 45 Chinese steel mills. The Chinese steel industry is suffering. Angang, 3rd largest listed steel mill in China, lost RMB 2.15B in 2011. Baosteel's (China's largest steel mill) preliminary 2011 financials indicate that Net Profit After Tax (NPAT) would be RMB 7.3B. 17% below Bloomberg consensus forecast (RMB 8.8B). The Net Margin is 3.26%.
Further downstream, construction, manufacturing and shipbuilding are slowing down. Manufacturing activities in China has fallen 5 months in a row. These 3 sectors are the largest consumers of steel. There are indications that steel demand is on the wane.
The one contrary indicator is the iron ore price which currently sits at between $140 to $150 per ton. The question is how long is this sustainable in the light of the above slow down in manufacturing, construction and shipbuilding.
Catalyst
The catalyst to this short is the breaking of the iron ore price. Once the iron ore price starts to drop significantly, the share price will follow suit.
Conclusion
This is a bet on China slowing down. It's hard to short the Chinese property developers directly because there is a risk that the Chinese government may ban short selling. Shorting Australian commodity producers has less government risk.
Disclosure: I have no positions in any stocks mentioned, and no plans to initiate any positions within the next 72 hours.