In investing, perceptions of fundamentals matter more than fundamentals. Most of the time, perceptions and fundamentals line up together. But sometimes, they become unhinged, and that is something that can both benefit investors, as well as harm them.
Perhaps no major company suffers from a diversion of perceptions and fundamentals as much as Microsoft (NASDAQ:MSFT). The company has grown earnings and revenue at a modest, but steady clip for the past decade. It has rallied over 23% so far in 2012, outperforming all the major indexes (NYSEARCA:DIA) (NYSEARCA:SPY) (NASDAQ:ONEQ), as well as archrival Google (NASDAQ:GOOG). Only Apple (NASDAQ:AAPL) has been able to advance farther.
click to enlarge

And yet, over the past decade, the stock has barely budged, despite $84 billion being spent on buybacks. Microsoft has badly underperformed its peers, as well as the broader markets.


The essence of this underperformance has been due to persistent worries about Microsoft's future, not its current fundamentals. Indeed, Microsoft has grown steadily for the past several years. We provide a quick overview of Microsoft's financials below.
Microsoft Financials
| | | | | | | |
| --- | --- | --- | --- | --- | --- | --- |
| | 2012 (Reuters Estimates) | 2011 | 2010 | 2009 | 2008 | 2007 |
| Revenues | $74.700 Billion | $69.943 Billion | $62.484 Billion | $58.437 Billion | $60.420 Billion | $51.122 Billion |
| EPS | $2.74 | $2.69 | $2.10 | $1.62 | $1.87 | $1.42 |
| Operating Margin | N/A | 38.83% | 38.57% | 34.85% | 36.86% | 36.07% |
| Profit Margin | N/A | 33.10% | 30.02% | 24.93% | 29.26% | 27.51% |
| Dividends per Share | $0.80 | $0.64 | $0.52 | $0.52 | $0.44 | $0.40 |
Microsoft's problems lie not in the products that it offers today. Its problems lie in worries over what the company is going to offer in the years to come. We first
profiled
Microsoft at the end of December, arguing that the company was not a suitable investment given the myriad of problems, such as billions in online losses, a bloated research & development budget, and a failure to make a presence in mobile. It is the mobile world, and the fact that Microsoft has failed to make a meaningful move into it, that we will focus on.
As the end of 2011, Windows Phone 7 had a marketshare of just 4.7%. And Microsoft's presence in the tablet sector is even less meaningful. This is perhaps the biggest worry investors in Microsoft have: will it be able to transition to a mobile world? We must give the company credit for trying. Windows 8 is set to launch by October, giving Microsoft a chance to make a dent in the tablet space (we do not address the impact it will have on desktop sales because that is beyond the scope of this article). And Windows Phone 8 is in development as well, and will likely launch in time for the holidays. Together, these two new platforms will position Microsoft to compete in the smartphone and tablet space. At least that is what Microsoft believes.
We expect the reality to be different. Why? Because Microsoft's corporate culture makes it extraordinarily difficult for true innovation to come forth. At Apple and Google, only CFO's Peter Oppenheimer and Patrick Pichette worry about their company's' finances. The rest of the employees focus on making great products. At Microsoft, however, that is not the case. As we stated in our prior article, Microsoft seems to design everything through an Excel spreadsheet of financial data. It is this obsession with protecting the Windows and Office monopolies at all costs that is holding the company back at a time when Microsoft can least afford it. And yet, it is this failure in mobile that we think could provide a catalyst for Microsoft shares to rally. Just what is that catalyst? The ouster of Steve Ballmer as CEO.
Steve Ballmer became the CEO of Microsoft on January 13, 2000. And since then, Microsoft has underperformed all the major indeces, as well as Apple and Google by huge margins.

At the end of the day, it is the CEO that is responsible for his or her company's stock price. And blaming Microsoft's underperformance on the bursting of the dot-com bubble is not an option. The NASDAQ after all, has done better than Microsoft. In our prior article on Microsoft, we identified 6 things Microsoft must do to regain the confidence of investors. Ousting Steve Ballmer was at the top of that list. Famed hedge fund manager David Einhorn also believes that Ballmer must be ousted, and the mere mention of that possibility sent Microsoft shares 2% higher after Einhorn shared that view. Microsoft's perception issues are more important than its fundamentals, in our opinion. Aside from its core franchises, the company is flailing. It cannot decide whether it is a value company, or a growth company, as evidence by the dividend that we think is much too low. And it seems unable to damage its Windows and Office cash machines, even if that is what it must do to remain a viable company.
We believe that when Microsoft reports its holiday quarter results at the beginning of 2013, its mobile business will be focused on like never before. Should Microsoft once again fail, we believe that calls for a change in management will surface once again. And this time, we believe that the calls will be more bold. Windows 8 and Windows Phone 8 are likely Microsoft's last chances to take a meaningful piece of the mobile market, and failure is inexcusable.
Steve Ballmer has presided over one of the largest corporate examples of pouring money down the drain in American history. Tens of billions have been spend on buybacks over the last decade, and they have clearly been a waste. Microsoft's online division has lost $6 billion in 5 years, for buying market share with shareholders' money is not a sustainable business model. And perhaps the most pertinent example of waste is the billions Microsoft spend on research and development.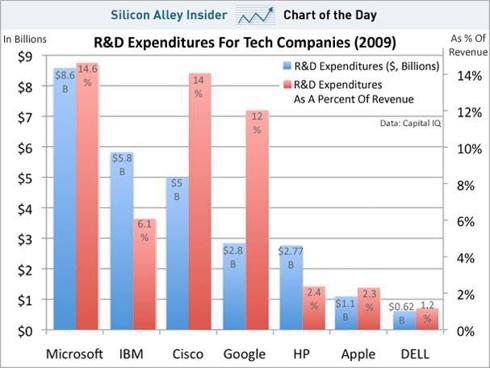 Microsoft spends more on R&D than any other major technology company, yet has precious little to show for it. Shareholder money is wasted on projects that never see the light of day due to the corporate politics of Microsoft. And at the end of the day, Steve Ballmer is responsible for this. Revenues and profits may be growing, but if stockholders do not see the effects of that via a higher stock price, then they mean little. By any financial metric, Microsoft's stock should be much higher than where it is now. Therefore, it is not Microsoft's financials that are holding back its stock price. It is something else, something relating to how investors perceive the company. We, and many in the markets, see Steve Ballmer as a liability, for the kind of innovation that Microsoft needs to truly succeed is not being allowed to happen. Just 45% of Microsoft employees approve of Ballmer's performance as CEO.
If Microsoft is able to succeed in the mobile world with Windows * and Windows Phone 8, then that will be great for the company. But should Microsoft once again fail, we believe it will be the catalyst needed for meaningful discussions on Steve Ballmer's future to begin. On balance, we believe that the market is more worried about Microsoft's leadership than its efforts in mobile, as those efforts are hampered by the company's leadership Microsoft cannot afford another failure in mobile. And yet, it is precisely that failure that can reignite discussions about the ouster of Steve Ballmer, and thus provide a catalyst for the shares to rally.
Disclosure: I am long MSFT, AAPL, GOOG, DIA.
Additional disclosure: We are long shares of MSFT via our holdings of the SPDR Dow Jones Industrial Average ETF. We are long shares of GOOG via a mutual fund that assigns the company a weighting of 2.75%