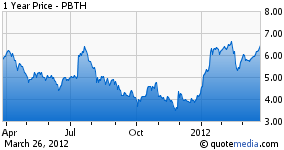 Last week VFC's Stock House outlined some potential catalysts that Prolor Biotech (NYSEMKT:PBTH) had pending that would have high-powered implications on the validation and potential success of the company's Carboxyl Terminal Peptide (CTP) based technology.
It was argued that should Prolor receive approval for and initiate a Phase II trial in children for hGH-CTP, a longer-lasting treatment for hormone deficiency, that it would hugely validate the trials conducted thus far and increase the chances that the company would receive the green light later this year to initiate a Phase III trial in adults.
The reasoning behind this thought process lies with the stringent standards of European medical regulators in approving clinical trials in children. A go-ahead from the EMA would go a long with investors, as the Paediatric Investigation Plan filed by Prolor to initiate the pediatric trial would have included the Phase II results from the already-completed adult trial.
On Tuesday of this week Prolor announced that it had, in fact, initiated the pediatric trial, which should be viewed as a huge validation of the company's early successes for hGH-CTP.
In announcing the trial, Dr. Abraham Havron, CEO of PROLOR stated in the company's press release that,"Obtaining regulatory clearance for a clinical trial in children is a challenge for any drug developer. We believe that our receipt of regulatory clearance for the initiation of our Phase II study in growth hormone deficient children is another indicator of the quality of our hGH-CTP program."
Prolor's Carboxyl Terminal Peptide technology, for which the company holds exclusive world wide rights, aside from four indications for fertility held by Merck (NYSE:MRK), can be attached to already-existing therapeutic proteins and slow the process by which the protein is removed from the human body. This process creates a significantly extended life span for an already-existing treatment and reduces the amount of injections a patient would need to endure by a huge margin.
In the case of pediatrics, where hormone-deficient children may receive up to 3,000 injections by the time they are 18, hGH-CTP has market-moving implications, and the same could be said for its application in adults, too.
The annual market for such treatments exceeds three billion dollars and is growing every year.
This week's announcement of the initiated pediatric Phase II is a boost to believers that Prolor can take this product all the way.
The initiation of a Phase III trial in adults is also expected for this year.
Disclosure: I have no positions in any stocks mentioned, and no plans to initiate any positions within the next 72 hours.