Move over Chicken Little. The "sky is falling" recently on investors still long in oil trusts such as SandRidge Permian Trust (NYSE:PER) and Chesapeake Granite Wash Trust (NYSE:CHKR), although Friday marked a nice recovery. After a meteoric rise and investor euphoria they have experienced a significant pullback. I made the decision several weeks ago to sell my PER and CHKR shares on recommendation from a trusted advisor as we both felt they were bloated, over-hyped, and had become too mainstream. There is still much to like about PER, though, barring an inflated stock price.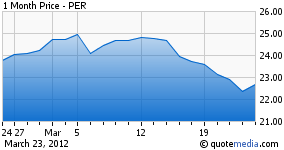 Will it continue to generate investors significant early year distributions? Yes. Am I still bullish on oil prices in the near term? Yes. These early year distributions provide excellent short-term downside protection. That is why I think this stock is still very attractive at the right price with oil hovering in the $100 range. As with everything timing is key. SandRidge Permian Trust will operate 509-producing wells in the Permian Basin, Texas. It claims 888-wells will be developed by March 31, 2015 and this will be needed to meet those high early year distributions.
The oil and natural gas production will clearly focus upon oil production, which is good. Approximately 87% of production is anticipated to be oil. The remaining production will be natural gas liquids and natural gas.
The trust is also engaged in two types of hedging procedures. One is to place a floor on the revenue and the other has been establishing derivative contracts between parent-SD and third parties. The trust expires after the 1st quarter of 2031. This provides plenty of time for PER to deliver proceeds beyond the return of invested capital.
The game is not being played right or most efficiently if you are not taking several years worth of distributions in gains and waiting for the next potential entry point. Timing is as important a determinant of success as any in these trusts. I am a buyer of either stock at or around the $20 mark. It may come sooner than you think. The trusts, especially PER, are front-end loaded so make no mistake I want back in as soon as possible. Just with the extra 40% I already made to play around with.
Disclosure: I have no positions in any stocks mentioned, but may initiate a long position in PER, CHKR over the next 72 hours.