The virtualization industry is currently industry showing nearly 100% growth rate due to a very low base. The industry's growth rate is expected to come down to 50% in the next 2-3 years.
As a result, VMWare's (NYSE:VMW) market share may decline from current level.
The company is currently enjoying a near monopoly in virtualization but as time passes, competition will rise and can effect the company's market share in its industry. Its main competition is expected to come from Microsoft Corporation (NASDAQ:MSFT), which already is working on entry level virtualization solutions.
Slowdown in addressable market
The main demand for virtualization is expected to come from the corporate sector, which usually had to run multiple applications on the same infrastructure. Any event that can effect the corporate sector's growth, like an economic slowdown, will also affect the virtualization industry.
VMW 14-day chart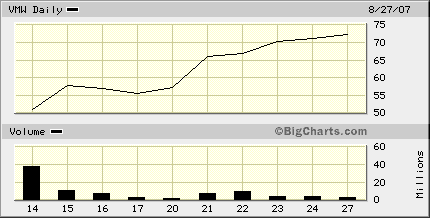 Disclosure: This article reflects personal view of the author about the company and one must read offer prospectus and consult its financial adviser before making any investment decision.