The famous Dunkin' Donuts (NASDAQ:DNKN) recently reported its 2011 year-end results. I decided that it is time to dig in.
As we all know and like (most of us, anyway) Dunkin' Brands - together with its subsidiaries - owns, operates, and franchises quick service restaurants worldwide. Its restaurants offer coffee, donuts, bagels, ice cream, and baked goods.
In the coffee segment, the company competes with other coffee servers like Starbucks (NASDAQ:SBUX) and McDonald's (NYSE:MCD). In the doughnuts segment, they compete with their much smaller, but fierce competitor, Krispy Kreme doughnuts (KKD).
The business model of Dunkin' Doughnuts is to franchise all of its goodies. It does not own a single store of its approximately 10,000 donuts stores and 6,700 ice-cream stores. It is paid in royalties and rental income from its franchisees.
Currently there are a few distinct warning signs that any investor should clearly pay attention to.
Valuation metrics
As always, we shall conduct a brief valuation comparison, as follows:
| | | | | |
| --- | --- | --- | --- | --- |
| | DNKN | SBUX | KKD | MCD |
| Market Cap | 3.7BL | 41.7BL | 0.5BL | 97.3BL |
| Trailing P/E | 87 | 33 | 3 | 18 |
| PEG | 1.7 | 1.58 | 1 | 1.7 |
| Price/Sales | 6 | 3.4 | 1.23 | 3.6 |
| Price/Book | 5 | 8.7 | 2 | 6.8 |
Obviously, a PE of 87 for DNKN is unsustainable. It embodies an expectation of high consistent growth that might not last permanently. Not only that, but the stock is currently selling for 6 times its past year sales. This valuation is extremely expensive by all means.
Even its Price/Book of 5 warrants further investigation. Although it is not the highest on list, it is by far the smallest in size. Put it differently, DNKN does not have the economies of scale, in contrast to MCD and SBUX, to support such a staggering Price to Book.
But we never short stocks based solely on valuations. It is a recipe for trouble because valuations can remain overly extended for quite a long time.
Capitalization Structure
The company has a massive debt of 1.9BL as a result of the leverage buyout by private equity funds. It is heavily leveraged. It has $316ML of current liabilities and In fact, it is currently making annual payments of $105ML just to pay down its interest. It is worth mentioning that its current operating income for 2011 was $205ML, evaluating its interest coverage measure at roughly two times. This is not very conservative to say the least. When looking at its 2010 results, for example, the company recorded $193ML in operating profits while paying down $112ML on interest. This gap can narrow very swiftly. I often refer to this type of capital structure as 'good for sunny day only'. Once business turns for the worse, DNKN will take front seat.
Insiders are selling
On March 16th, the company disclosed to the SEC its intentions to pursue the sale of 22,000,000 common shares of the company. The star sellers are the three private equity firms that participated in the initial buyout of DNKN: Bain Capital, the Carlyle Group and Thomas H. Lee Group.
You see, the business model of equity funds is to always buy a company using excessive leverage, load the new company with excessive amounts of debt while pulling out fat dividends at the same time so the fund can finance the debt obligations it incurred in the process of the purchase. Then, once the company shows a good performance record, the PE funds immediately sell their shares.
In almost all cases, that is a great point to exit, not to enter.
The trend is not its friend
The world is moving away from unhealthy sugary goods and into much healthier organic food. This trend first began about a decade ago but started to accelerate five years ago. For example, the sales of baked goods, which is the core business of DNKN, decreased by 3.8% year over year according to Bloomberg.
When we attempt to look 5 or even 10 years ahead, it seems unlikely that the world will consume more doughnuts and more sugary goods. I believe that the opposite is much more in line with current health trends.
The contrarian view
Of course, not everyone agrees with me. DNKN has had a terrific year: revenues increased 8.8% to $628.2 million from $577.1 and worldwide system-wide sales grew 9.1%. That is not to be taken lightly. The company also announced a quarterly dividend of 15 cents. The opponents will claim that the price for DNKN shares is justified because this growth will continue and will even increase with time. To support their claim, they will say that the dividend is a sign of the maturity of Dunkin.
I, on the other hand, claim that it is extremely difficult to support this kind of growth. The dividend, in my opinion, is another attempt by those private funds to remove cash from the company into their own pockets.
So what's an investor to do?
Now is a great time to short the shares of DNKN. Shares enjoyed a nice 50% run in the past three months and have recently experienced an 8% pullback from recent highs. It is always a good idea to short a stock after it broke a support line on its way down.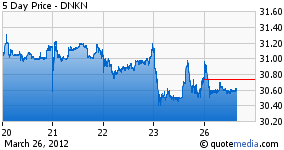 My recommendation is to short DNKN at any price greater than $28 (it is currently trading at $30.7). Place your stop loss at $33 to limit any possible losses. Take profits at $24.
Because of all the hype surrounding this stock, I will issue timely updates on this trade.
Disclosure: I am short DNKN.