Sometimes it pays to wade into an equity that is having temporary problems that are significantly impacting its stock price. It is hard to get up the nerve to catch a "falling knife," but if done right it can lead to outsized profits in the long term as the company puts its current concerns behind it and investor sentiment turns driving the stock forward. One such candidate for this approach is Hecla Mining (NYSE:HL).
The company is facing a shareholder lawsuit over how it handled communication of two deaths at its Lucky Friday mine as well as other activity which has caused production to fall off at that mine. This has put a litigation cloud over the stock, but one I believe will be resolved by the end of 2012. Contrarian investors should consider picking up a stake in this silver miner while temporary events are providing an entry point at a deeply discounted level.
Hecla Mining Company, together with its subsidiaries, discovers, acquires, develops, produces, and markets precious and base metals worldwide. It offers gold and silver to precious metals traders; and lead, zinc, and bulk concentrates to custom smelters. The company has two operating mines and exploration properties that include the Greens Creek mine located in Alaska and the Lucky Friday mine located in northern Idaho. (Business Description from Yahoo Finance)
7 reasons Hecla is a great long term buy at under $5 a share:
The stock is cheap at around 8 times forward earnings and just 11% over book value.
It has a solid balance sheet with over $250mm of net cash on its balance sheet. This cash accounts for approximately 20% of its market capitalization.
The median price target of the 8 analysts that cover the stock is $6.50 a share. This is more than 30% above its current stock price.
Although analysts expect revenues to be down some 17% in FY2012 due to the problems at the Lucky Friday mine, they also expect revenues to bounce back sharply in FY2013 with a projected sales gain of over 35%.
Insiders have been net buyers of the stock over the past eight months and at higher price levels.
The stock is selling near the bottom of its five year valuation range based on P/B, P/E, P/S and P/CF.
The stock is right at long term technical support levels and was trading twice as high less than a year ago (see chart):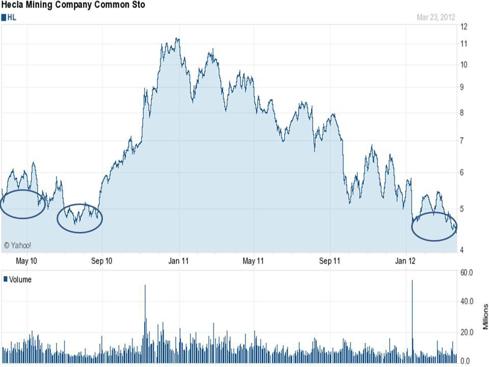 Disclosure: I have no positions in any stocks mentioned, but may initiate a long position in HL over the next 72 hours.